Linde Material Handling says that its new intelligent operator-assist system for reach trucks will "transform the way that material is handled in builder's yards, merchant warehouses and distribution centres".
The technology prevents high masts wobbling, making operations quicker and safer. The new sensor-controlled Dynamic Mast Control (DMC) system is completing its final field test phase and will be available for the Linde R14 – R20 series.
Linde head of reach trucks & tractors Alexander Schmidt said: "The market trend for ever higher storage racks in warehouses and distribution centres is continuing apace. This means there is an increasing demand for reach trucks with lift heights of over eight metres. While only 38% of all Linde reach trucks sold in 2005 were designed for such heights, this increased to 52% last year."
However, higher lift heights place more demands on the skill of the operator. With the mast fully raised, the dynamic mast oscillations during reach movements are more pronounced particularly when laden. And with the pallet load fully raised, the forward deflection of the mast increases.

When placing pallet loads onto a rack, the operator must first wait until the dynamic mast oscillations have stopped because even with small oscillations it is difficult to position the load accurately into the rack location. Precise positioning takes on greater importance the higher the racking is, to ensure the storage structure is balanced, with its centre of gravity maintained.
Key to the DMC system is an electric linear actuator system in the lift truck's motor compartment. It automatically compensates and minimises mast oscillations and mast deflection through tiny counter-movements of the reach carriage – it does this rapidly with minimum use of battery energy.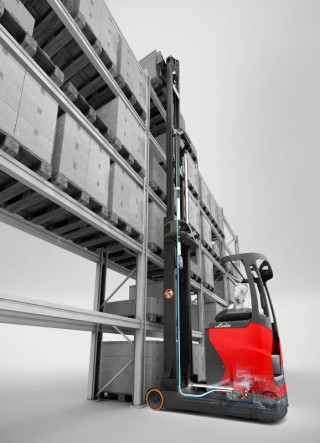 Got a story? Email news@theconstructionindex.co.uk