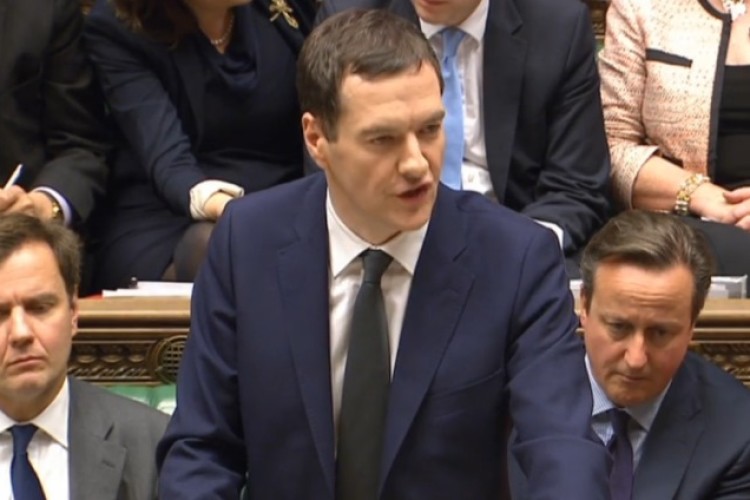 One of the flagship measures is a doubling of the housing budget to more than £2bn a year to support delivery of 400,000 'affordable' new homes by the end of the decade.
The Home Builders Federation said the government had given 'extra impetus' to the industry, while the British Property Federation described it as 'a seminal moment'.
Stewart Baseley, executive chairman of the Home Builders Federation said: "The government is clearly committed to increasing both housing supply and home ownership. Measures introduced in recent years have led to a big increase in house building levels but the scale of the challenge requires further action to close the gap between demand and supply. The chancellor's announcements will provide extra impetus to deliver further increases in housing supply."
He continued: "The industry has been gearing up to boost its capacity to a level where it can deliver the increases in housing supply that are so desperately needed. Over the past two years the industry has initiated a huge recruitment and training drive, taking on tens of thousands of new staff to achieve the 30 per cent increase in output seen over that period. Today's announcement could lead to thousands of new jobs and apprenticeships created in the sector.
"Boosting home ownership and creating additional actual demand for new homes enables builders to invest in the people, land and materials necessary to accelerate supply. If buyers can buy, builders will build.
"Further reforms of the planning system to increase the supply of smaller sites, to ensure local plans deliver, and to increase the rate at which planning permissions are processed – as well as releasing more public land – would be a huge step towards speeding up the rate at which builders can build.
"Building more high quality homes will give more people of all ages access to their own home, and boost existing communities by providing improved infrastructure and amenities. Building more homes will also deliver a boost to the UKs economy, creating jobs and benefitting local economies in every area."
Melanie Leech, chief executive of the British Property Federation, said: "This could be a seminal moment for the government, and the start of a building programme that actually delivers. By committing billions of pounds to building new homes, government is really putting its money where its mouth is, and has set itself some ambitious targets that it must not fall short of.
"Government must understand that new homes must be built in locations with good transport links, social infrastructure such as hospitals and schools, and leisure and employment facilities. No one wants to live in a new house built in the middle of nowhere, with no shops, jobs or community facilities nearby. Great places are also those which have a variety of housing types to suit different demographics, and the Build to Rent sector must not be pushed aside in blind pursuit of making us a nation of homeowners.

"Today's announcements mean nothing unless government invests simultaneously in placemaking, and it must not be blinkered in its pursuit of new homes if it wants to create sustainable communities at the same time."
However, she also voiced concern about the lack of resources in local authority planning departments. "Both the private and public sector have identified this as one of the biggest obstacles for development, and with the private sector willing to discuss how it might be able to plug the funding gap, it is frustrating that government has not engaged on this matter," she said.
Jon Over, managing director at house-builder Goldstone Homes, concurred. He said that the autumn statement was "very positive for the construction industry, however it's going to put huge added pressure on already overstretched planning departments causing backlogs and time delays". He said: "The demand for property is absolutely there but it's the availability of land which is going to be the issue."
Steve Perkins, director of urban development at Turner & Townsend, was more concerned about industry's capacity to deliver: "At times the chancellor's flurry of announcements came close to sounding like a developer's charter. The relief from Britain's housebuilders is palpable – and these measures will make it easier for developers to get both the money and the land they need to build.
"But there is still the awkward question of what will happen when the surge of new building unlocked by these measures collides with the lack of capacity – both in the construction industry itself and in the planning process.
"As demand from developers increases, the shortage of skilled workers is likely to drive up construction costs, and stretch planning authorities – already pared back by local government austerity – to the limit.
"Britain's construction industry has already made great strides in increasing levels of housebuilding, and while these measures will give it a much-needed stimulus, they don't remove all the structural barriers that have for too long prevented it from meeting demand."
Mark Naysmith, UK chief operating officer of WSP Parsons Brinckerhoff, was more upbeat: "Huge projects and 400,000 homes is great news for the UK's sustained economic growth, but they do not build themselves. We can only get Britain building by urgently attracting and training a skilled workforce to deliver much needed new infrastructure. On this matter the government is supporting our recruitment efforts through its firm commitment to apprenticeships and large transport projects including HS2, rail electrification, road building and the regional development opportunities they bring. Political certainty and stability remain our industry's lifeblood. Where this is lacking – as remains the case with energy efficiency and airport capacity – investors cannot plan for the future with the same confidence. However, overall today's statement is definitely a step in the right direction for the industry."
Got a story? Email news@theconstructionindex.co.uk