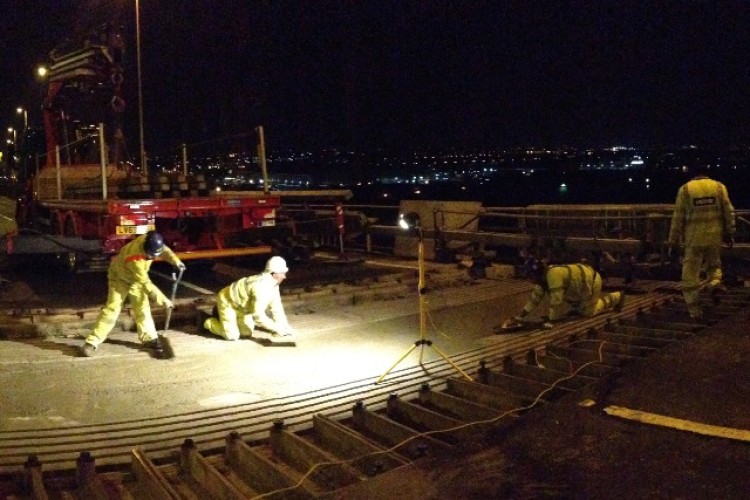 Connect Plus, the company responsible for managing and upgrading the M25 network, has this month completed the installation of new bridge expansion joints on the QEII Bridge at Dartford.
The project involved replacing six bridge expansion joints, weighing 80 tonnes each, which had reached the end of their lifecycle having expanded and contracted by more than three metres in the heat and cold during the bridge's 23 year operation.
With more than 150,000 vehicles using the bridge daily, traffic flow continuity was critical during the project. Connect Plus, working with its designer Flint &Neill and contractor Jackson Civils, developed a new temporary over-ramp system. This allowed the workforce to repair the expansion joints underneath, while traffic passed overhead. Carriageway closures were dramatically reduced compared to typical bridge joint replacement schemes with restriction to times when the temporary ramp system was installed.
The modular ramp system comprised 1.2m-wide units that could be dropped into place, further reducing carriageway closure time. Their built-in finger joints allowed the bridge road surface to expand and contract normally and the design of the ramp allowed for vehicles to travel safely at speeds of up to 70mph, well in excess of the limit on the bridge and negating the need for vehicles to slow down. Each ramp was installed and removed four times and each required the removal and replacement of 458 bolts with around 100m3 of concrete removed during the repair process.



During the time the ramps have been in place, more than 30 million vehicles have driven over them.
Connect Plus Services managing director Brian Johns said: "So successful has the temporary ramp system been that we now plan to use the same system to replace movement joints at other locations on the M25 network during the duration of the 30-year design build finance and operate contract."

Got a story? Email news@theconstructionindex.co.uk