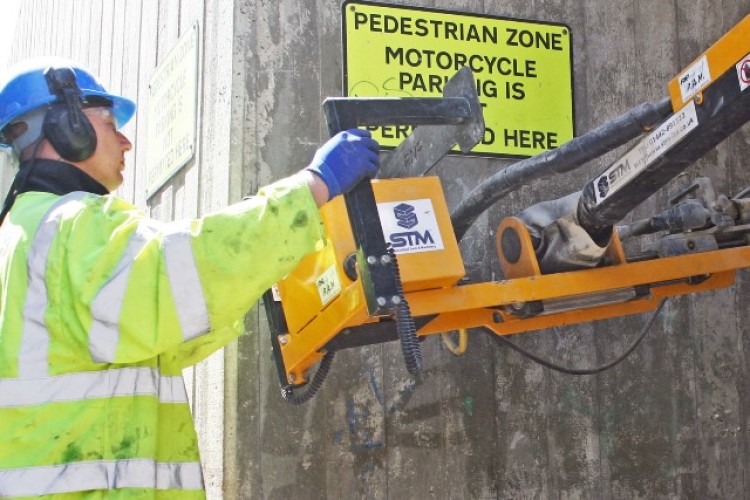 The Positioner-Actuator-Manipulator (PAM) is made in Canada by RNP Industries of Boisbriand, Quebec, and sold in the UK by Hertfordshire-based STM.
The drilling and breaking machine is designed to minimise the problem of hand/arm vibration syndrome (HAVS) when operating air powered hammers, chisels, rock drills, scabblers and diamond core drills.
The tool carrier is suspended from a free-moving knuckle joint while an under-mounted air ram introduces the tool onto the work point at the push of a button.
PAM allows an operator to greatly increase the time that a tool can be safely used by having it secured to an air-over-hydraulic powered, two-piece arm, which STM says almost completely isolates vibration from the PAM's hand controls. Claimed vibration levels are reduced to 2.5 to 2.7 m/s2.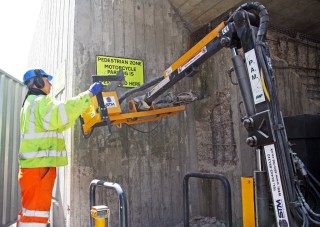 On a recent job to repair a pair of concrete bridge abutments in Watford town centre, Kent-based Top Bond was able to complete all the concrete removal work in just two days, rather than the originally calculated two weeks. This dramatic time reduction was attributed to PAM's ability to be used continuously, unlike hand-held breakers that would have required restricted working times due to the operators' exposure to HAV.
STM says that because the weight of the tool is carried by the two piece arm, PAM is very easy to use on either walls or ceilings, using tools weighing up to 16kg. The unit is mounted on four castors to enable it to be pushed into position. Then brakes are applied and legs deployed.
Weighing 525kg without a tool attached, PAM can be transported in a typical high-roof 3.5-tonne van.
STM director Peter Bennett said: "When I first saw a unit at work I could immediately see the benefits it offered for many breaking and drilling applications with the added bonus of virtually zero hand arm vibration levels."
Got a story? Email news@theconstructionindex.co.uk