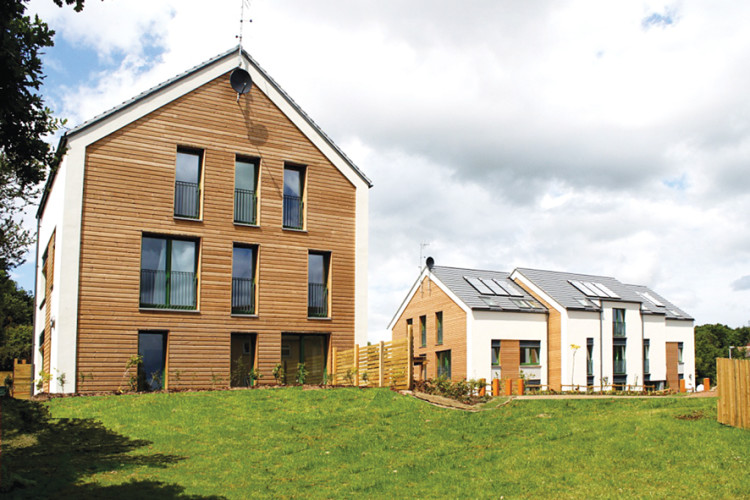 You might think houses are pretty passive objects – once built, they don't tend to do much that could be described as active.
But a 'Passivhaus' is something specific and builders involved in work with housing associations and local authorities are increasingly likely to find themselves being asked to build to the Passivhaus standard. This design code, which originated in Germany, is still uncommon in the UK and almost unheard-of in the private housebuilding sector. But that could change if buyers are attracted to the idea of the savings in energy costs claimed for the method.
They do, though, require a meticulous attention to detail – things that you might get away with in a 'normal' building will compromise the performance of a Passivhaus one.
Hastoe Housing Association, which has properties throughout the south of England, intends using Passivhaus for about 20% of its new-build programme, the equivalent of 40-50 homes a year, says business development director, Kevin Hartnett. "We've done three schemes to date and have about 100 homes on site," he explains, "and we're working with the Passivhaus Trust to develop a 'lite' version, which will not be quite so elaborate but would deliver most of the benefits".
The main attraction of "Passivhaus Lite" is lower cost. At present, a house built to Passivhaus standard costs between 8% and 12% more than a comparable home built to Level 4 of the Code for Sustainable Homes. Despite this cost problem, Hartnett thinks the use of Passivhaus will spread because the technique allows residents to heat a three-bedroom home and provide hot water for about £120 a year.
"It's good for them and good for us, as it means we have almost no rent arrears on those properties because tenants are not spending so much on energy," says Harnett. "That means there is a moral case for using it, for fuel poverty and climate change, as well as a business case. I think we will reach a tipping point where demand grows and the private sector gets involved." Chris Parsons, a director of Parsons & Whittley architects which has worked on several Hastoe projects, also expects Passivhaus to become more common. "The trajectory we have seen in the UK since 2009 shows that it's catching on and some 450 [Passivhaus] homes are expected to be built in the next year," he says.
"There is fairly rapid expansion in Europe since 1999 with some 20,000 Passivhaus homes built in the last three years. Frankfurt, Brussels and Dortmund are among places that have local building codes that require it."
Parsons says Passivhaus has taken off in the social housing sector because unlike spec developers, housing associations are in it for the long-term.
"In social housing there is still a relationship between the person who pays the higher capital costs of a home and those having an interest in the alleviation of fuel poverty for tenants, so there has been early adoption there," he says.
Parsons expects the use of Passivhaus to grow in the private sector as rules in Part L of the Building Regulations (governing the conservation of heat and energy) tighten further.
"The gap between a house built to the regulations and one built to Passivhaus will diminish and knowledge of Passivhaus will spread among the general public, creating demand," Parsons says.
"We are now seeing some enquiries from self-builders and I have a developer, who I cannot name, who has gained planning permission from an 11-home development of Passivhaus homes on the open market in Norfolk."

Another local authority that has embraced Passivhaus is Exeter City Council, which so far has used Passivhaus on three schemes totalling 21 homes.
Housing development manager Emma Osmundson explains: "The reason we moved to Passivhaus was to combat fuel poverty, as a house built to these standards costs about one tenth of the cost of a normal house to heat. "It was challenging at first as contractors did not have experience in building to Passivhaus standards," she adds. "Its not complex and there's not a large difference from conventional building but it does demand very robust detailing because the standard needs to be high to give the energy efficiency and there is very little margin for error." Use of the Passivhaus standard outside of the residential sector is still very rare, but Exeter now intends all of its public building to be built to this level; it is about to embark on a Passivhaus standard leisure centre. Parsons agrees that skills are not an obstacle to Passivhaus adoption. "The skills issue is not great, but it is more a change of culture," he says. "Passivhaus requires very considerable attention to detail in insulation and air tightness in particular, and so people need to do a little better than they normally do. But it is not a radical change.
"You can build to Passivhaus using any material and in any style; it need not be the central European steel-andglass style that people associate with the concept. We have even built them in areas of outstanding natural beauty," says Parsons.
William Price, a chartered architectural technologist at architect Sanderson Weatherall, who worked with Exeter, says that for other cities to follow its example there must be a business case for Passivhaus based around the energy savings already demonstrated. "For Passivhaus to succeed and to become a realistic long-term viable solution to environmental construction and the zero-carbon initiative, all aspects of the design, manufacturing and delivery of construction projects must evolve," he says.
"This requires hubs of innovation in terms of designers skilled in Passivhaus design, contractors familiar with the workmanship standards required and manufacturers able to deliver quality products that meet the needs of the growing industry."
Price says Passivhaus carries issues for architects, who need to take a more scientific approach to make this work. And while he applauds Exeter's buy-in to the concept, he doubts that there would be enough designers in the UK capable of delivering the projects should there suddenly be a wholesale shift to Passivhaus on all public sector works. "Small practices often struggle to get on large framework agreements for the sort of bodies that could implement this," says Price. "Would the mediumto- large architectural practices be skilled enough to deliver such projects?" A period of re-training would probably be required, he believes.
"The question would be how long would this take, how much would it cost and how much down-time would be incurred?"
So far, the largest scheme to achieve Passivhaus standard in the UK is thought to be a development of 53 homes built by the London Borough of Camden on its Chester Balmore scheme. This project comprises a mixture of council rent, shared ownership and private housing.
The new homes have triple-glazed windows and 250mm insulation in their walls, which are almost half a metre thick. Great Yarmouth Borough Council has built 12 Passivhaus homes as small infill developments at Caister-on-Sea, Martham and Bradwell, on projects worth £1.35m in total.
These houses were all built by Beattie Passive Build Systems which has its own patented system incorporating a continuous insulation seal around the core of a timber-framed structure. Penny Linden, the council's cabinet member for communities says: "This project not only helps to meet the demand, but also delivers models for the council homes of the future.
"These properties do not have radiators at all because they trap enough heat generated by the occupants' bodies and electrical appliances about the house." So far, Passivhaus is a minority pursuit confined largely to the social sector. But with energy costs being such a political hot potato, who would bet against it eventually entering the private housing mainstream?
This article first appeared in the October 2014 issue of The Construction Index magazine. To read the full magazine online, click here.

To receive you own hard copy each month in traditional paper format, you can subscribe at
http://www.theconstructionindex.co.uk/magazine#
Got a story? Email news@theconstructionindex.co.uk