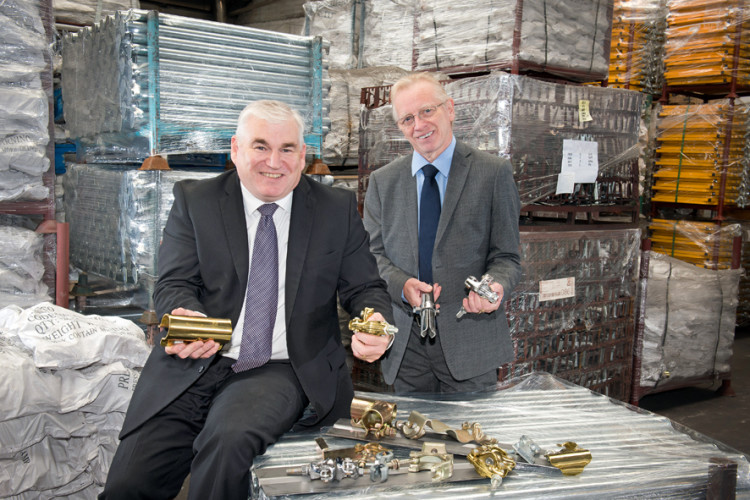 After six months of negotiation Presco Scaffolding is now in new hands. The company, once the market leader, has seen its turnover more than halved over the past few years. But now, according its new owners, it is ready to step up to a new role in the scaffolding industry that will take full advantage of its UK factory and the in-house testing facilities provided by its UKAS-accredited metrology centre.
"Presco is a big name in the industry for manufacturing and supplying scaffolding, fixtures and fittings yet we feel it has lost direction and can recover lost ground with our management," says new managing director Steve Tysoe. "We'll be looking at what we currently manufacture in the UK and what is manufactured elsewhere while reviving the emphasis upon its reputation for service and quality."
In Tysoe's view, Presco has allowed cheaper products to undercut it without trying to persuade the market that it can offer better quality and greater safety – combined with the security of supply that comes from having a UK manufacturing base.
"It has let the Chinese imports and copies take over the market. There are plenty of names in the industry that have fallen by the wayside – GKN and SGB for instance – and have lost their name for UK manufacturing," he says.
The deal comprises all the intellectual property, trademarks and brands associated with Presco Scaffolding as well as Presco's 1,000m2 factory and distribution centre in Walsall, with its 14 employees.
And now Brexit offers a potential bonus to those who remain loyal to UK plants, Tysoe argues. Tysoe and his co-owner, Ian Smith, have examined the business and found that, although some Presco products are indeed made in China where it has partnerships with half a dozen factories, they can still be made here and that it would be economic to do so, particularly when it has its own testing house to guarantee quality.
"There's so much uncertainty over Brexit that we have to bear than in mind how that affects the marketplace," he explains. "I'm not saying we're going to manufacture all our products in the UK but there will be some cases where that is the right answer to drive the business forward."
"Irrespective of Brexit, we would still look at the potential of the manufacturing site," adds Smith, who is the new financial director of the business. "It would be remiss of us not to use that asset in a cost-effective manner that maximises output. It's pointless having a plant if you don't make anything."
Smith is also bullish about Presco's potential for growth, both organically on the strength of increasing sales and market share and by acquisition. He points out that he and Tysoe have funded the acquisition themselves, with backing from a bank, so they can afford to take a longer-term vision than if there was a venture capitalist on board. (Smith's long career with large corporations in the manufacturing and industrial sectors included a stint with wallpaper manufacturer Vymura where, after a management buyout, the venture capitalist expected to be out of the business and banking its profit within 18 months. Such short-termism won't hamper Presco's development, promises Smith.)
For the moment, the immediate focus is on improving the current business. The factory, for instance, still uses old presses and could benefit from the introduction of robotic processes, while research and development is required to develop new products for the market. Tysoe is understandably reticent about what these might be but says that R&D will be led by customer demand and that four products are already 'in the pipeline'.
"We work with a lot of companies that want bespoke products and we want to continually improve our own products to meet market needs," he says. "And that's why it's so important to have our own UKAS-accredited testing facility. We can thoroughly test everything before launching it and assure everyone that it meets all the health and safety criteria."
These 'health and safety criteria' have also driven the one product that Tysoe will talk about, a device for lifting and lowering scaffolding poles without using ropes or chains. Another is the 'Lay-Flat Fitting' developed in collaboration with My Install, a scaffolding contractor based in Morley, Leeds.
This fitting improves safety by removing a tripping hazard through enabling all scaffold boards to lay flat on a return. Now tested to 9.1kN with a Class B certification complete with EN74 – 1 BM, the fitting also improves the structural integrity of the scaffold and works with double-arm transoms as well as traditional tube and fittings.
Presco's testing facility is a key asset in Tysoe's vision for the company, providing a service to its customers that can reassure them not simply of the quality of the products that Presco supplies but also any other products that they source from elsewhere.
"For our products we test, test, test and test again so the market knows our quality because we're seeing a lot of new products out there that are failing so we're quite happy to do that for our customers if they've bought anything that they're unsure of." In fact, he adds, Presco is even prepared to offer the same service to other manufacturers.
For Tysoe and Smith, this acquisition is a return to an industry that they both left some months ago after decades as managing director and finance director respectively at Beaver 84, the French-owned distributor of scaffolding, fencing and groundworks products.


Tysoe has been in the industry for 35 years and, at Beaver 84, drew up and executed a growth strategy that almost doubled turnover, from £24m to £42m, in the four years to 2016. Tysoe has also created an online business, Construction Products Direct, that sells associated equipment such as scaffolding, fencing, general builders' equipment, ladders and aluminium scaffold towers.
This track record and entrepreneurial background undoubtedly helped the partners raise the necessary funds as the banks that they approached knew them from their previous roles and so had seen that they could deliver the business plan.
"They'd seen what we can do and we didn't have to borrow that much because the business wasn't in the best of health," Tysoe says. "Both Ian and I also wanted to be in a business where we knew we could make a difference."
Their return has been welcomed by others in the industry. One, Tony Stephens of Worldwide Scaffold & Access, comments: "Presco is a sleeping giant and Steve's the right person to make it perform and he'll make a big go of it." In Stephens' view, the previous owners of Presco were more interested in their autocare business and the scaffolding business suffered, especially since its business model depended upon supplying distributors.
"Beaver 84 essentially changed that business model after the Altrad Group bought it, and those distributors largely disappeared so that companies like Presco needed to go out and find their own customers," he says.
And that would make it highly fitting if Tysoe and Smith do turn around Presco's fortunes, as their success at Beaver 84 may well have been at Presco's expense.
Presco - a brief history
At the start, in the 1950s, Presco was one of the many small metal-bashing businesses that sprouted in the West Midlands to service the automotive industries.
In classic style, it began life in a backyard in Walsall and was run by Harry Sargent and Doug James. By the early 1960s the company had outgrown the backyard and moved into premises in Green Lane but it was still focussed upon cars, producing small pressed parts such as exhaust brackets, seat belt buckles and radiator caps.
It was not until the 1970s that the company entered the scaffolding market, creating and patenting its own fittings. These swiftly became popular on the back of a number of design awards and the firm prospered, eventually employing 100 staff.
In 2005 the founders sold the business to Robert Parkes (Holdings), an Oxfordshire-based company that owns a portfolio of engineering companies in the Midlands, which moved Presco to its present site in Selborne Street, Walsall.
As the scaffolding market changed in response to challenges from India and China, the company lost its pre-eminent position and both turnover and staff numbers dwindled.
Turnover last year was just £3m, a drop of two-thirds compared to 2015 when its turnover was £9m. And now there are just 14 staff at Selborne Street, veterans with 200 years of service between them – though the new management intends to recruit more.
Yet Presco has a justified reputation for quality that was established in the 1970s and survives still, despite its recent history, thanks to its commitment to high standards and its refusal to "value-engineer" its products at the expense of standards compliance and material and structural integrity.
This has enabled the holding company to negotiate the sale of the scaffolding side of the business – for an undisclosed sum – while keeping the automotive components business that shares its name.
This article was first published in the October 2018 issue of The Construction Index magazine
UK readers can have their own copy of the magazine, in real paper, posted through their letterbox each month by taking out an annual subscription for just £50 a year. Click for details.
Got a story? Email news@theconstructionindex.co.uk