A document filed with the High Court of Justice in Leeds states owner Pat Harrington's intent to appoint Howard Smith and Jonathan Marston of the Leeds office of KPMG as administrators for PC Harrington Contractors.
The notice was filed following a board meeting on the morning of Wednesday 8th April at which the company's financial difficulties were discussed. Minutes of the meeting show that the board decided that appointing administrators "would be in the best interests of the company and its creditors".
PC Harrington has worked on some of the UK's most iconic major structures in recent years, including the Gherkin, the Walkie Talkie and the new Wembley Stadium.
According to its website it has more than 1200 employees, although this figure is likely to be out of date.
PC Harrington reorganised its senior management last year, bringing in former Skanska UK managing director Dave Shadwell into the role of business development director and promoting Duncan Salt from managing director of the tower crane division, HTC Plant, to group managing director. Dave Holder took over the plant operation.

PC Harrington Contractors Ltd is one of six divisions within the PC Harrington Group. It is not known which other group companies, if any, are also going into administration.
PC Harrington began life as a specialist concrete contractor and expanded into tower cranes in 2002 by acquiring the Hewden Stuart fleet of approximately 200 tower cranes. It was a move that mirrored Ray O'Rourke's move into tower cranes with Select Plant. Both men felt they were parting with two much money hiring cranes when they increasingly had enough work on to justify owning their own fleets.
There are rumours that HTC is about to be bought by the German tower crane manufacturer Wolffkran, which supplies HTC with its cranes. (HTC acquired the UK Wolff dealership franchise from Hewden along wth the crane fleet.)
Regarding a sale of HTC, Duncan Salt said only: "Nothing [has been] agreed as yet."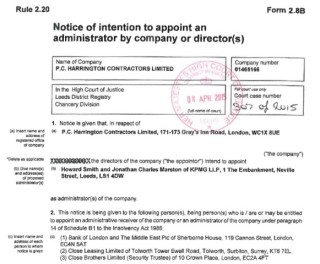 Got a story? Email news@theconstructionindex.co.uk