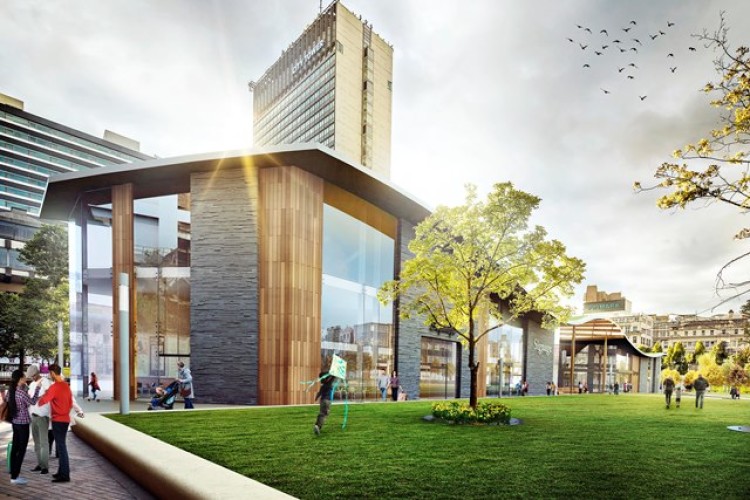 The city centre space is to get an overhaul as part of a £10m investment by Legal & General Investment Management Real Assets (L&G), in partnership with Manchester City Council. In return, L&G's lease area is being extended.
"We see the partnership with Manchester City Council and the proposal for Piccadilly Gardens as an opportunity to regenerate a prominent and well-used space in central Manchester that is also a thoroughfare to other parts of the city," said L&G head of real assets Bill Hughes. "Under the proposals L&G will dedicate £2m worth of investment in improvements to Piccadilly Gardens to make them more attractive and welcoming to families while deterring anti-social behaviour.
The plans include removing the existing Pavilion building and feature wall and replacing them with two new Pavilion buildings linked by a covered area of new public space for year-round use. Greater Manchester Police have been consulted on the landscaping design "to deter anti-social behaviour and improve natural surveillance".
"The proposed Pavilion design will bring a new vibrancy and economy to Piccadilly Gardens which we hope residents can be proud of and visitors to Manchester will see as a destination in its own right," Bill Hughes said. "L&G has a longstanding track record of working with progressive local authorities to bring forward regeneration and improvements to social infrastructure projects. We see Piccadilly Gardens as a prime example of this kind of collaboration in action."


The proposals for the Pavilion and Gardens will be undertaken and paid for by L&G. The cost is estimated to be in excess of £10m of which £2m will be invested in public realm improvements. The value of the extra land required for the new Pavilion buildings is estimated at £1.3m, which will be reinvested in the public realm improvements with L&G providing the remaining funding. L&G has a 250-year lease on the Pavilion building.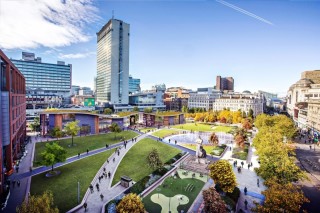 Manchester City Council leader Sir Richard Leese said: "For all the debate it has generated in recent years, Piccadilly Gardens remains an incredibly well-used public space. But we recognise that there are aspects which have proved unpopular and others where there is scope for improvement, including design improvements to deter anti-social behaviour and enhancing our own ongoing maintenance of the space. These proposals will provide both real and sustainable improvements which are compatible with Piccadilly Gardens' role as a major thoroughfare used by hundreds of thousands of people a week as well as a destination where people can meet and relax.
 "We believe the scheme which L&G has brought forward following detailed discussions with the council is a constructive response to all these considerations but are keen to engage with the public to get their thoughts on the proposals."
Got a story? Email news@theconstructionindex.co.uk