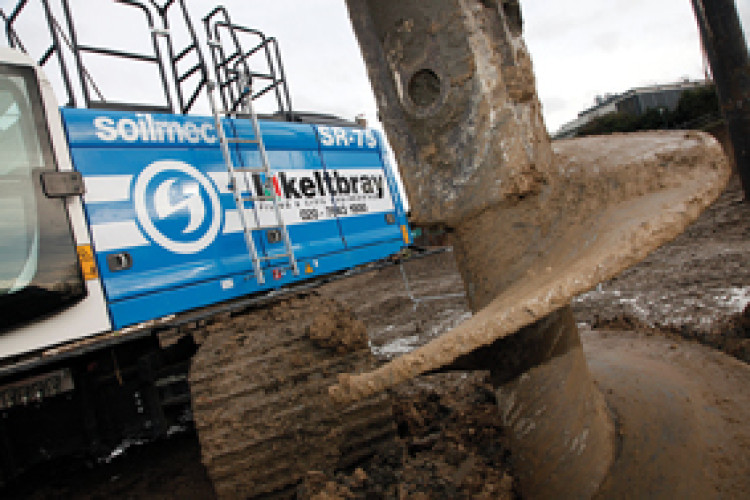 Keltbray is probably best-known for its demolition work – it seems to crop up on most of the landmark projects in London and the south-east. But it is busy developing the other strings it has recently added to its bow, one of the fastest growing being its foundations division, Keltbray Piling.
Created in 2009 after Keltbray scooped up the remains of failed piling specialist Cainwhite, the piling division has become an increasingly important complement to the group's core demolition business.
In London's commercial building market – one of the few construction sectors to thrive in the fallout from the global recession – Keltbray exploited the trend for redevelopment and the growing demand for deeper basements.
"There's a trend for bigger, deeper basements going down two or three storeys," says Keltbray Piling's managing director Stuart Norman. With its new piling division, Keltbray can tender not only for the demolition package on a redevelopment project, but also for all the piling work that will be required afterwards.
"We can actually get three bites of the cherry," says Norman, "because we also have an engineering division that can provide design services."
He adds: "Prices are rising, people are busy and decent geotechnical engineers are hard to find."
This isn't just talk; Norman also puts his money where his mouth is and Keltbray Piling has just shelled out £2.5m on three new piling rigs from Italian manufacturer Soilmec.
These comprise two of the Soilmec SR-75 and one Soilmec SR-30. The two SR-75s are the first of their kind in Europe and part of a new range of reduced-weight rigs that Soilmec has designed for large-diameter piling.
The new rigs are powered by the latest Tier IIIB/IVi engines which the manufacturer says emit about 17% less CO2 than their predecessors while still delivering more power, better efficiency and more flexibility.


The SR-75 is designed for a range of large-diameter piling applications, including cased and deep uncased bored piles, low-headroom large-diameter bored piles, continuous flight auger piles, case augered piles, displacement piles and soil consolidation columns.
It weighs in at 75 tonnes and can install large-diameter piles up to 2.5m across to depths of up to 77m. In CFA mode, piles of up to 1.2m diameter can be installed to depths of 26m.
The smaller SR-30 (39 tonnes) can install large-diameter piles measuring up to 1.5m to a maximum depth of 49m.
The addition of these three machines brings the number of rigs in the Keltbray fleet to six – all of them by Soilmec. "In addition, we've also got a couple virtually on full-time hire from Soilmec and Bauer Equipment," says Norman.
Nearly all of the company's workload is currently supplied by customers in the London area. Keltbray is at present building the foundations for Aldgate Place, a residential development in east London, for Barratt Homes and has just secured a contract with Lend Lease on TIQ Stratford, on the 2012 Olympic site. "We've no reason to go outside the M25," says Norman.
Having said that, the company has recently completed a major piling job for a new wharf for Associated British Ports at Southampton's container terminal.
And with the market for major commercial developments in the capital showing signs of slowing down, Norman says the company anticipates more work coming from infrastructure projects both in London and further afield.
"Thames Tideway, HS2… these things will come. There's good cross-party support for them," he says.
file:///Users/design2/Desktop/Blippar/Our%20Magazine%20Blip/July/Pg41/Marker.jpg
https://www.youtube.com/watch?v=CjQFfJQf3gQ
This article first appeared in the July 2014 issue of The Construction Index magazine, which can be viewed in full at: http://epublishing.theconstructionindex.co.uk/magazine/july2014/
While the magazine is free to view online, a subscription is required to receive you own hard copy every month. This can be purchased for just £35 a year at http://www.theconstructionindex.co.uk/magazine
Got a story? Email news@theconstructionindex.co.uk