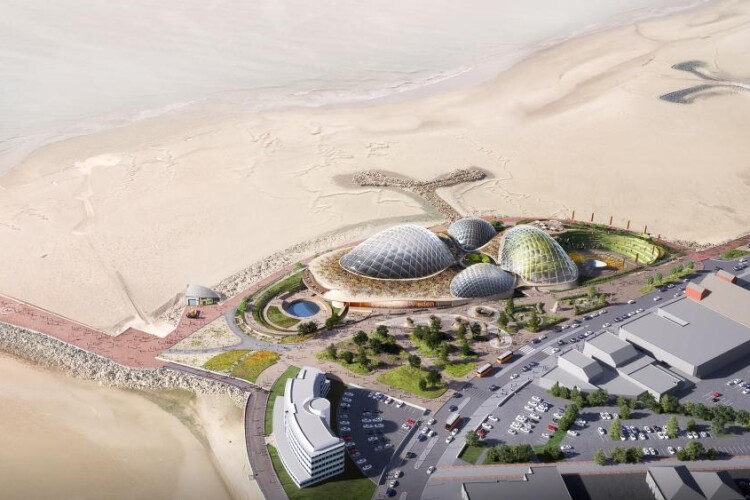 Lancaster City Council planning committee granted planning permission yesterday (31st January) for the construction of a visitor attraction in the coastal resort of Morecambe to replicate the celebrated Eden Project of Cornwall.
With planning permission granted, securing funding for Eden Project North is now the main focus of the Eden team. Eden has submitted a business case to the government, arguing that £70m public investment would be paid back many times over in economic benefit for the region.
If it gets the money, it could be built and open by 2024.
Eden Project North will be built on the former site of the Bubbles leisure complex, near the Winter Gardens and Midland Hotel.  Its shell-like domes will be constructed in timber and covered in a flexible transparent membrane with integrated solar cells. These four shells – known as the Rhythm Machine, the Bay Glade, the Bay Hall and the Natural Observatory – are set in a 'dunescape' of landscaped roofing planted with coastal vegetation.
Surrounding the buildings will be a collection of outdoor gardens, designed to reflect the flora, geology and rhythms of their coastal environment. These include the Rhythm Garden, which reimagines the existing Bay Arena and the Tide Garden, whose beds spiral down towards a tidal pool at the garden's centre.

Eden Project North is being delivered by the team behind the first Eden Project in Cornwall, alongside local partners Lancaster University, Lancaster City Council, Lancashire County Council and the Lancashire Enterprise Partnership.
David Harland, chief executive of Eden Project International, said: "Planning permission is a huge milestone on our journey towards making Eden Project North an exemplar project for Morecambe, Lancashire and the North of England. The project is now definitively shovel-ready and a compelling financial case has been made to government. We are primed and ready to create this beacon to a green and sustainable future, be part of levelling up and drive economic and social enhancements across the region.
"While we are incredibly proud of what we and our partners have achieved so far, we now need UK government support to quickly bring this to fruition and maintain momentum."
Got a story? Email news@theconstructionindex.co.uk