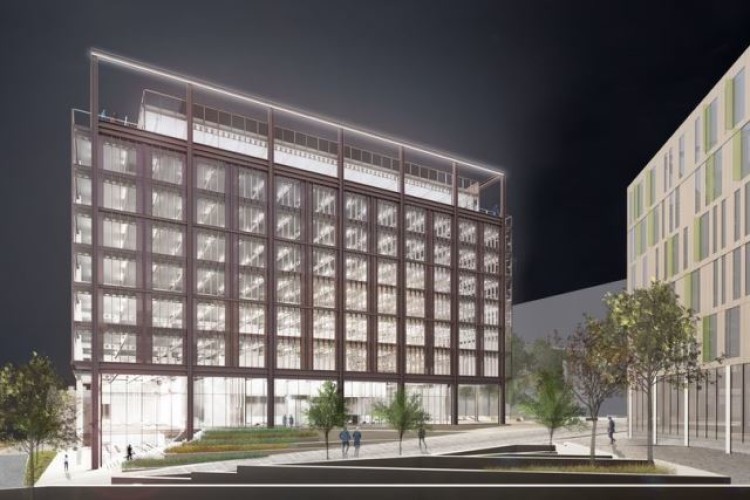 Designed by Ryder Architecture, the first office building will create 100,000 sq ft of workspace for 1,200 people in the science and technology sectors. Newcastle City Council will manage and operate the building when complete.
Newcastle Science Central is one of the biggest urban regeneration projects of its kind in the UK. The 10-hectare science and technology hub is being built on the site of the old Newcastle Brown Ale brewery in Newcastle's city centre. It is projected to create more than 4,000 jobs, 500,000 sq ft of office space, and 450 new homes.
In June 2016 Legal & General Capital, the investment arm of Legal & General Group, became the long term investment partner with Newcastle City Council and Newcastle University to build and finance the Newcastle Science Central development.
Legal & General's initial £65m investment will deliver more than 200,000 sq ft of Grade A office space, it said.

This first office building is due to be followed by a second, adding a further 100,000 sq ft to the site. The two office buildings, along with The Core – a 27,000 sq ft space for start-ups and SMEs – will form the gateway to Science Central. The area between the three buildings will also be transformed into a public square.
Ryder partner Richard Wise said: "The application for planning approval for Plot 1 marks a significant milestone in the development of Newcastle Science Central. It is a clear signal of the intent and ambitions of Legal & General and the Science Central LLP.  It represents the first significant tranche of private sector investment into what to date has been a predominantly publicly funded development.
"Ryder is delighted to be the lead consultant for the project enjoying a strong relationship with the client team and the wider Newcastle Science Central stakeholders.  We look forward to delivering the next stages of the project." 
Rachel Dickie, urban regeneration investment manager at Legal & General Capital, said:  "This is an important step forward for this exciting city centre regeneration project, giving further visualisation to the quality and vibrancy of the urban landscape that will be created here at Newcastle Science Central in collaborative partnership with the council and the university.  Working with leading architect, Ryder, it was important to us all that the design of this building pays homage to Newcastle's rich history, while also embracing and supporting its technology savvy future.  If planning is successful, we hope to be able to be on site by January 2018."
Got a story? Email news@theconstructionindex.co.uk