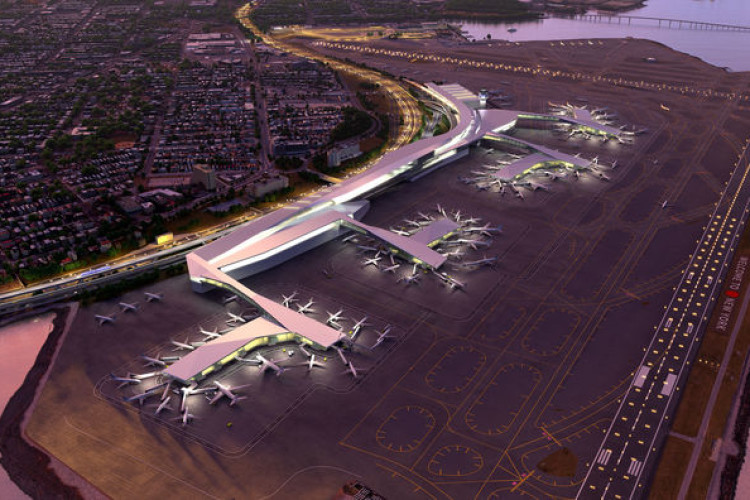 Skanska and Walsh Construction are set to begin work next year on the US$4bn (£2.57bn) scheme, which will result in a single, structurally unified main terminal with expanded transport access, increased taxiway space and upgraded passenger amenities.
Construction on the first half of the new unified terminal will be managed by LaGuardia Gateway Partners, a new public-private partnership chosen in May by the Port Authority of New York & New Jersey to build the project (link opens in new tab).
LaGuardia Gateway Partners is made up of Vantage Airport Group as well as a construction joint venture of  Skanska and Walsh Construction and a design joint venture of HOK and Parsons Brinckerhoff.  The equity investment will come from Vantage, Skanska and Meridiam.
Construction on the first half will begin upon final approval from the Port Authority's board of directors. That approval is expected in the first part of 2016; the majority of this first half of the project is expected to open to passengers in 2019, with full completion scheduled for approximately 18 months later. The project is expected to create 8,000 direct jobs.
The second half of the new unified terminal is expected to be redeveloped by Delta Air Lines, which anticipates beginning the redevelopment of its terminals on a parallel track with the LaGuardia Gateway Partners project to complete the new unified airport.

LaGuardia's current terminal layout has multiple, fragmented terminals, will be replaced by one main, architecturally unified terminal. This will be accomplished by demolishing the existing Terminal B building, which is operated by the Port Authority, and replacing it with a larger structure, which will include new terminal space and a new central arrivals and departures hall, and will link to Delta's Terminals C and D. This represents the western half of the new structurally unified terminal.
The redesigned facility will also use an island-gate system, in which passengers access their gates via raised pedestrian bridges - high enough for aircraft to taxi underneath - which connect back to the main terminal.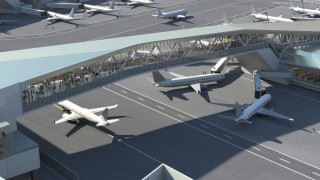 Together, the relocated terminals and island-gate system will create nearly two miles of new taxiway space. This allows for a more efficient circulation of aircraft and reduced taxi-in and taxi-out times, which will yield shorter and fewer gate delays.
The eastern half of the new unified terminal will be constructed on a parallel track by Delta Air Lines redeveloping its existing terminals and connecting them to the new central arrivals and departures hall.  
Got a story? Email news@theconstructionindex.co.uk