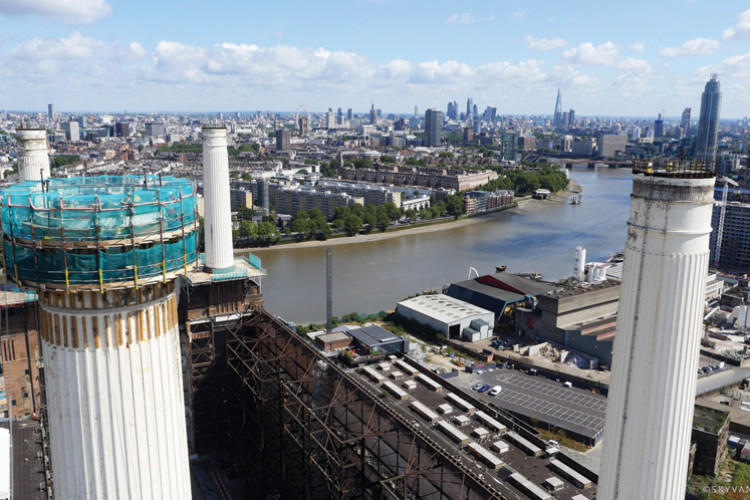 It all started with a line drawn with a felt- tip pen. Arup associate Charlotte Spetch remembers it well. She was sitting in a meeting about Battersea Power Station around 2008. The Grade II* London landmark was becoming a problem. Its isolated position was discouraging investment. Without strong transport links, the deteriorating structure was in danger of becoming a white elephant for developers. Spetch, who was working for transport consultancy Steer Davies Gleave at the time, remembers the 'light-bulb' moment, when someone took the marker and drew a line from Kennington Station down to Battersea. With that, the concept for the Northern Line Extension (NLE) was born.
Seven years later, she can hardly believe the change to the previously nondescript zone of warehouses and car showrooms. Across a two- mile stretch between Vauxhall and the power station around 70 sites are in various stages of development. Residential and commercial towers are shooting upwards, the American Embassy project is in full swing. That felt-tip line has launched a land grab. With sites packed densely together and immense commercial pressure to complete as quickly as possible, there is much that could go wrong in developing Nine Elms. Within a very short time period there needs to be enough heat and power for an extra 21,000 new homes, and 6.5 million ft2 of commercial and retail space. Water and power networks must be strengthened and beefed up; having a super-fast broadband supply will be critical for attracting business. And the sewers in the area are already stretched to capacity.
These long-term challenges must be considered in parallel with the immediate problems that contractors face: keeping the delivery trucks moving on the congested road system; coordinating abnormal loads and road closures; linking up to utilities in a timely manner. They must even consider whether there will be enough power in the network to support the construction and demolition activity. The fact that the area crosses the boroughs of Lambeth and Wandsworth, and will also have major infrastructure projects the NLE and the Thames Tideway Tunnel (TTT) jostling for space and resources, merely adds to the complexity.
It's a challenge that has sprung rival contractors and developers into unprecedented levels of collaboration and cooperation. And it might just be a template for new ways of working. Spetch believes that nothing has been done on London quite to this scale before. And she's quick to point out that Nine Elms differs vastly from projects such as the 2012 Olympic Park. "The Olympic Delivery Authority was able to dictate exactly what happened on one site. Here we have many different developers and contractors all working to different timetables," she says. To bring order to this potential chaos, the Nine Elms Vauxhall Partnership - a PPP chaired by the heads of the two council boroughs, and whose membership includes 15 clients and developers, Transport for London (TfL) and the Greater London Authority - presides over this activity. The Partnership has been master- planning everything from utilities strategies to road movements. Spetch is part of the Arup team working on the logistics and roads strategy for the area. Arup compiles and publishes quarterly reports and forecasts of traffic movements based on detailed data supplied regularly by all of the sites working on Nine Elms.
This is a useful early-warning system, particularly for times such as the first quarter of 2016, when two-way vehicle movements are predicted to peak at 2,000 a day. "When we first looked at the figures, we expected a 4 – 5% increase in traffic as a result of construction," says Jamie Eagles, strategic project manager for the Nine Elms Vauxhall Partnership. "But on refreshing the data, some schemes have accelerated, we're now predicting a 10% increase. "The volume of traffic is not such a problem – it's the timing. After identifying problematic junctions, our priority is to encourage sites to re- programme and retime those deliveries to other times of day."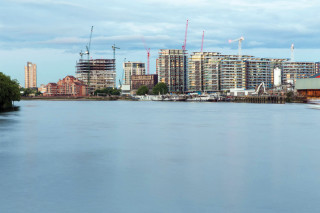 Spetch adds that contractors are investigating a variety of ways of reducing the number of journeys to their sites, including specifying prefabricated modules and using consolidation centres. Incredibly, there is even talk of separate projects sharing concrete batching plants. And under a pilot scheme run by TfL, crushed material from demolished buildings is being distributed to local sites, rather than being transported out of the area. "It's a low tech approach at the moment - just a simple spreadsheet listing people who might want crushed concrete and those who have it. But it's saving both parties money, and isn't going into the waste stream, so it benefits everyone," Eagles says.
Within the 195ha Nine Elms area, Arup has identified three hotspots that need particularly careful monitoring: Cringle Street and Kirtling Street by the power station; Ponton Road by the American Embassy and Wyvil Road, near Vauxhall Underground Station. "Take Cringle and Kirtling Street," says Spetch. "Here you've got all the development at Battersea Power Station and St James Riverlight Apartments, the Thames Tideway Tunnel site and then there's a market across the other side of the road. There are also existing businesses: a waste transfer station and a Cemex plant. This obviously involves significant road activity, and you've basically got one road in, and one road out." It could so easily turn into a recipe for neighbourly acrimony. Instead, the contractors around these roads have taken the unprecedented step of directly exchanging data with their neighbours, as well as sharing a holding space for deliveries. They have formed a small localised group that meets regularly to update on concrete pours and crane removals. "This is real collaboration," Spetch comments. "Other contractors are beginning to copy the behaviour elsewhere on Nine Elms."
Given the enormous volumes of traffic, the need to dig up the roads to install, strengthen and connect to existing utilities is a painful, but necessary complication. Here, careful coordination is essential to prevent the entire road network grinding to a halt. Spetch says that TfL is playing a leading role, ensuring that when sections of the road are being dug up, all the relevant utility work takes place over a concentrated time-period. "We're always looking for opportunities to piggy-back onto other works," Eagles says. "It may look like chaos, but we will often have seven or eight pieces of work being done at the same time." He adds that, with so many sites at different stages of development, allowing developers to organise their utility connections independently would be a chaotic and extremely unpopular option with locals. "A piecemeal approach presents significant construction risks. You don't want to dig up the road about 15 times each time someone has a gas connection, or a pipe needing to be resized."

Instead developers have come together, forming a special purpose vehicle: the Nine Elms Regeneration Company. "The SPV is a good example of best practice," Eagles says. "It commissions strategic pieces of work, so that you don't end up with 10 MoUs [memoranda of understanding] between developers and suppliers. It's also useful in getting over regulatory issues."
Amalgamating the area's overall development plans, the SPV presents utilities firms with a wider picture of the long-term needs of the area, making a clear case for the amount of investment and extent of infrastructure required. "We have learned two big lessons regarding utilities," Eagles says: "firstly, the need for very early collaboration and, secondly, that requests for connections have to be submitted very early. On some roads, we're encouraging contractors to submit their connection requests all at the same time, even though their sites are at different stages of development." In order to reduce disruption to the road network, part of the Partnership's strategy is to route as many of the utilities as possible through the Linear Park, a stretch of green public realm which runs right through the development from Vauxhall to Battersea.
This policy, says Eagles, was built into the planning consent for most developments. However, he admits that utilities will have to loop and skirt around some sites, such as the New Covent Garden Flower market, that are coming on stream later. "The ground still needs to go through a major decontamination programme, so it would be impossible to put the infrastructure into it in advance," he says. The Linear Park will also play an important role in surface-water drainage, taking the pressure off the already overloaded sewer system. At present, Eagles says, the sewers are already around 84% full when it's not raining. "When it is raining, they overflow," he adds.
The solution in the masterplan is to create two distinct networks: surface water will no longer be routed to the foul sewer, but will flow through a new super-sewer subsystem through the Linear Park to a pumping station situated within the second phase of Ballymore's Embassy Gardens project, from where it will be pumped out into the Thames. The urgent need to increase power supply to the region is also creating challenges. The National Grid is busy upgrading the local network. "This area wasn't a big user of energy previously, but we're seeing a step change in terms of construction load requirements. Take something like Battersea Power Station where they are just getting up to the 25m mark on the first chimney refurbishment. When they do that, the three other chimneys will come down which means that you've suddenly got six new cranes that need to power up. That's a huge surge in energy demand," Eagles says. He adds that on the smaller sites, when whole buildings are demolished, the first thing to go is the substation "so there's a short-term issue around construction load."
To meet short-term demand for the first wave of residents moving into completed blocks, some developers are creating temporary gas-powered containerised heating plants. "But this is only a short-term solution," Eagles warns. "We also have to be mindful that the area has to be a pleasant place for incoming residents, even when the work is going on around them." Ultimately two new primary substations will be built to serve the area. These will have enough capacity to support the entire energy needs for Nine Elms occupants and take the pressure off nearby substations that are also facing increasing demand, as London becomes denser.
Many of the new developments at Nine Elms will be net exporters of heat, ultimately linking up to a district heating network. Planning consent, dating back to early stages of the master plan, stipulates that all developments must be able to connect to a network in the future.
Eagles says that the American Embassy will have two combined heat and power plants, as well as ground-source heat pumps. Fittingly, the old power station will also have a large energy centre installed in its former coal store. "I love the fact that three of Battersea's four chimneys will be vented, and Battersea will be a net exporter of some of the cleanest energy that you can get," he laughs. He adds that the strategy of the master- plan is to gradually build out the network. "Eventually we could use historic connections under the river to link up with the large district heating network in Pimlico on the North Bank."
As Nine Elms progresses, individual developers are understandably striving to build strong relationships, both with potential buyers and with local residents. But, as with everything on Nine Elms, the Partnership has learned that even the most modest publicity initiatives have to be coordinated. "In the early days, contractors tried to make their mark by staging events, such as on cycle safety. But we found that we couldn't have that happening in an uncoordinated way. You don't want 15 different cycle safety events in the same fortnight," Eagles says. But both he and Spetch acknowledge the speed and scale of achievement in what must be one of the most complicated regeneration programmes in the world. "It's quite an interesting point to consider regarding infrastructure projects," Eagles sums up, "that the time frame from a conception of an idea to implementation is on average 50 years. Here we have gone from conception to implementation in seven years. It's phenomenal."
Got a story? Email news@theconstructionindex.co.uk