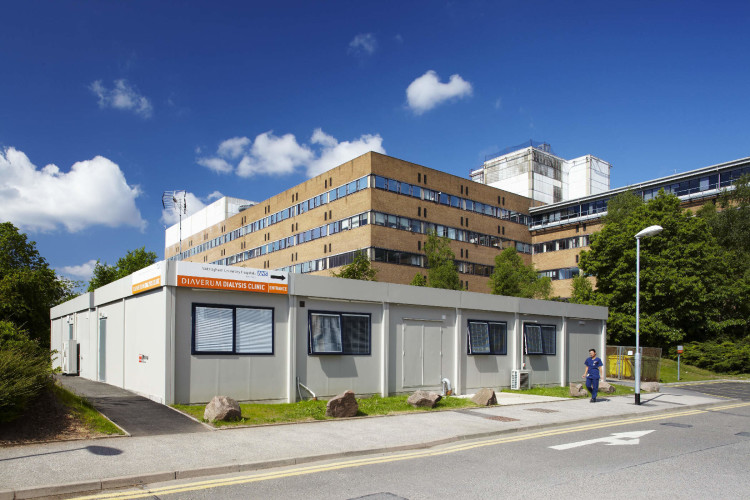 Healthcare modular building specialist, Portakabin has completed its first project in a pioneering new partnership with Diaverum – one of the world's leading providers of renal care services.
The new satellite unit, which has just opened at Nottingham University Hospitals NHS Trust's Queen's Medical Centre in Nottingham, allows patients with kidney disease to benefit from care closer to home – a key Government target.  The existing renal facilities in Nottinghamshire were approaching capacity and this interim centre, which is delivered and operated by Diaverum, provides much needed extra stations. 
Portakabin delivered the building in a challenging timescale of just 11 weeks from receipt of order, helping to bring the facility into use as fast as possible to the benefit of patients.  The clinic is already operating two shifts six days a week, providing treatment for up to 40 patients every week.
Diaverum's clinical service, which is delivered in the new unit, means that patients are treated in a safe, comfortable and pleasant environment.  The clinic is equipped with the latest medical technology and patient resources, which include Freeview television and wireless internet, and nursing staff have been recruited to deliver the highest standards of clinical care.
The hire solution will be in use for up to two years until a permanent facility is in place on the QMC campus.
The specially-designed unit was manufactured off site and rapidly craned into position, minimising disruption on this busy hospital site and radically cutting the completion time.  It accommodates 10 dialysis stations, nurses' base, utility rooms, reception and waiting area, staff room, office and storage area.
Mick Hartnett, Managing Director of Diaverum, said, "This is our first project in a new partnership with Portakabin and it went very well.  We selected Portakabin for its past experience in the healthcare sector and its ability to deliver the fast response we needed to address the under-capacity for renal services in the area.  It is a trusted brand with a reputation for reliability."
"The modular hire solution was a more flexible and patient-oriented alternative to a trailer.  It enabled us to design a unit that was tailored to the hospital site, and allowed us to accommodate more dialysis stations to meet patient demand.  Although the clinic is an interim facility, we did not want to compromise the quality of the patient experience.  The finished building provides a much higher quality environment for both patients and staff."

"The Portakabin team were professional, responsive and customer-focused throughout.  We are very happy with the quality and finish of the building, which feels more like a permanent facility than an interim unit."
Kim Beak, Assistant General Manager for Renal Services at Nottingham University Hospitals NHS Trust, said, "I am very impressed and delighted with the new facility which has far exceeded our expectations.  Because of the amount of time dialysis patients have to spend undergoing treatment each week, the quality of the environment was an extremely important requirement."                                                                                                   
"Time was also critical because of the increase in patient numbers and the urgent need for a satellite facility on this site.  The building was delivered on schedule and the Portakabin team was very professional throughout."
Dr Simon Roe, Consultant Nephrologist at Nottingham University Hospitals NHS Trust, said, "This new unit is addressing a strong need to enhance the dialysis facilities in the county.  It is providing services closer to where people live and is giving them greater control over the time and nature of their care.  It is also freeing up capacity at other units.  Both staff and patients are delighted with the new facility."
The Portakabin Hire team provided a full range of services for this high specification building, including design, groundworks, project management, installation, and fitting out.  Special requirements included non-slip flooring, medical hand basins, an integral pipework system for infection control, and services for a water treatment plant.
The unit was constructed using the Ultima modular building system, which has no interior columnsfor design flexibility and has superior thermal efficiency for reduced running costs and less impact on the environment. 
The building system also benefits from a pioneering 20 year structural and 5 year product warranty package for further reassurance and it fully complies with the latest Building Regulations and NHS requirements. 
Got a story? Email news@theconstructionindex.co.uk