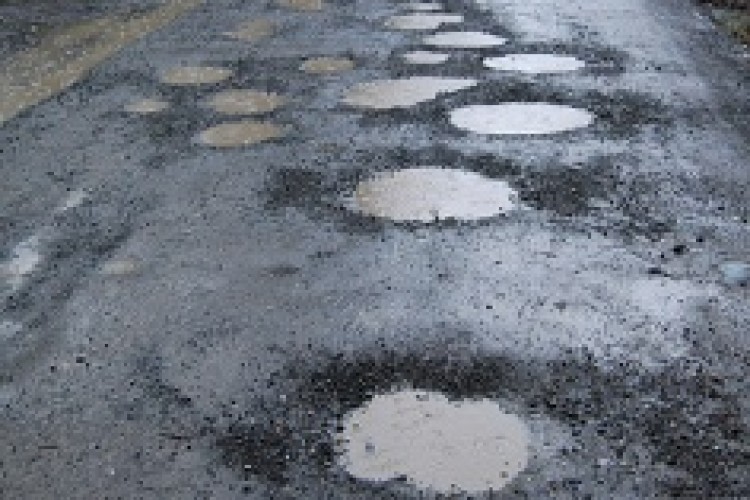 The 19th annual local authority road maintenance (ALARM) survey, which is published  today, reports that the estimated cost to get the local road network in England and Wales back into reasonable condition has increased to £12bn from £10.5 billion in 2013. It will take a predicted 12 years to clear backlog across England and Wales as a whole and 14 years in London.
For the second year in a row, more than two million potholes - 2,010,749 to be precise - were filled in England and Wales over the course of the previous year.
The damage caused by this winter's record rainfall, however, is predicted to have counteracted much of that work, with highways departments anticipating worse road conditions to come and the higher one-time catch-up cost of £12bn.
Authorities in England have been affected the worst, reporting this estimated the one-time cost as 30% higher than last year, at an average of £90m per authority.
This forewarning comes despite a 20% decrease in the shortfall in annual road maintenance budgets reported by local authorities, which has reduced from an average of £6.2m to £5.1m per authority in England. The reduction in reported shortfall is primarily due to local authorities investing more in their road maintenance programmes during 2013 in an attempt to catch up on maintenance needed after the previous wet winter.
Urging central government to introduce an "invest to save" policy, the Asphalt Industry Alliance's chairman, Alan Mackenzie said: "These figures are disappointing for everyone who has worked hard together on the Highway Maintenance Efficiency Programme (HMEP) initiated by the Department for Transport. It's thanks to HMEP that so many highways departments have successfully made the case to their councils to invest in more repair to avoid further deterioration and costs. To see that work washed away is discouraging to say the least.

"The government has recently made significant additional funds available to help combat the results of the relentless rainfall this winter but money spent on repairing damage never goes as far as money invested in planned, preventative maintenance," he continued. "It costs at least 20 times more per square metre to fill a pothole than it does to resurface a road."
The average time before a road is resurfaced in England and Wales is 68 years, excluding London.
Nearly two-thirds (65%) of local authorities in England were affected by the winter deluge, although at the time the survey was conducted most were unable to estimate the cost of damage to their networks, with many roads still  under water. Highways engineers have reported that because their roads are in a fragile condition they are more affected by the wet weather and that they anticipated more potholes appearing once the water had receded.
The number of compensation claims for personal injury or damage to vehicles has increased by 20% over the last year to an average of 540 for each local authority in England (excluding London where the figures remain the same as the previous year) and 141 for councils in Wales.
The total cost of compensation claims due to poor road condition, including the cost of staff time spent processing them, amounted to £31.6m across England and Wales over the last year. Payouts on claims accounted for only £16.6m, of this, with the remaining £15m (up from £13m) being staff costs incurred by local authorities processing claims.
Got a story? Email news@theconstructionindex.co.uk