The Construction Products Association (CPA) state of trade survey for the second quarter of 2017 showed members experiencing growth in sales and activity for the 17th consecutive quarter, but higher input costs and rising uncertainty has given rise to emerging pessimism in the sector.
The UK construction products manufacturing industry has an annual turnover of £55bn, directly providing jobs for 300,000 people across 22,000 companies. Products range from 'heavy side' materials such as steel, bricks, timber and concrete to 'light side' products such as insulation, boilers, glass and lighting.
In the Q2 2017 survey, 21% of heavy side manufacturers and 30% of light side manufacturers reported that they anticipated sales over the next year would rise 'significantly', by over 5%. A further 29% of heavy side firms and 20% of light side firms anticipated further rises in sales of up to 5%. However, 21% of firms on the heavy side and 20% on the light side anticipated a fall in sales during 2017.
A sharp rise in input costs was also reported in Q2, with 93% of heavy side manufacturers and all of those on the light side reporting an increase in costs compared with a year earlier.
The strongest inflationary pressures are coming from raw materials, fuel and energy, owing to depreciation in sterling during 2016, coupled with skills shortages pushing up wage bills.

A balance of 47% of heavy side firms reported that sales had increased in Q2 compared with a year before; a balance of 45% of light side manufacturers reported that sales were higher than a year earlier.
Comparing the second quarter to the first quarter of 2017, a balance of 40% of heavy side firms and 55% of light side firms reported that sales rose.
CPA senior economist Rebecca Larkin said: "It was an eventful quarter on the political front, with the announcement of a snap general election and the resulting hung parliament adding to existing uncertainty over the path for Brexit negotiations. Despite healthy growth in the second quarter, construction product manufacturers have turned more pessimistic over performance for the rest of the year, reigniting concern that the triple hit of imported inflation in raw materials, higher fuel and energy prices and the persistent pressure on labour costs will have a negative impact on demand and construction activity over the next 12 months.
"An increase in overall costs was reported by 93% of heavy side manufacturers and all of those on the light side. Inflation is expected to endure as similar proportions anticipate that costs will continue to climb over the next year. Government's ability to progress the pipeline for large public sector and infrastructure projects is now more important than ever as a means of sustaining activity when private sector decision-making may be stalling."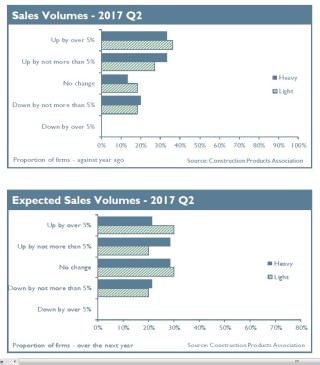 Got a story? Email news@theconstructionindex.co.uk