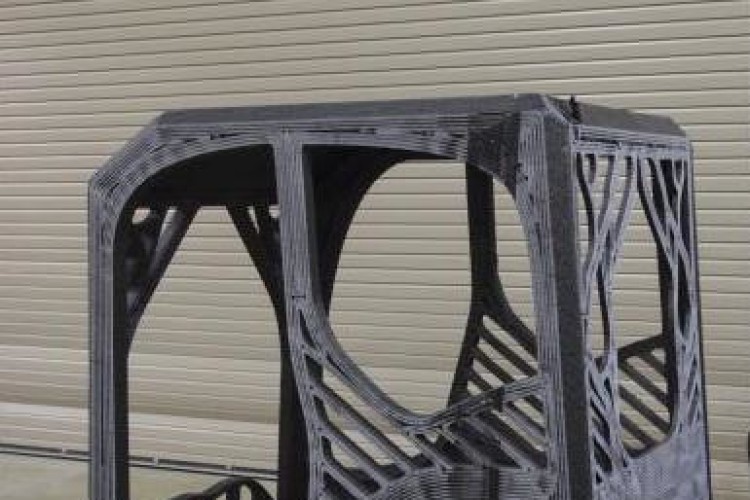 The prototype has leveraged latest manufacturing technologies and explores the feasibility of printing with metal alloys.  
Project AME (Additive Manufactured Excavator) has been under way for two years, bringing together trade associations, industry, government and academia.
The excavator is being 3D-printed in the USA using various machines at the Oak Ridge National Laboratory's Manufacturing Demonstration Facility (MDF) to create and assemble three components: the cab, the boom, and a heat exchanger. The excavator's boom will be fabricated using newly developed free-form additive manufacturing technique to print large-scale metal components.

A student engineering team from the University of Illinois at Urbana-Champaign won a design competition and was on-hand at the MDF to watch their cab design take shape on the big area additive manufacturing machine – using carbon fibre-reinforced acrylonitrile butadiene styrene, or ABS, plastic.
The excavator is a collaboration between the Association of Equipment Manufacturers (AEM), National Fluid Power Association (NFPA), Center for Compact and Efficient Fluid Power (CCEFP), Oak Ridge National Laboratory (ORNL) and the National Science Foundation (NSF). This project was supported by DOE's Office of Energy Efficiency and Renewable Energy – Advanced Manufacturing Office.
CCEFP academic partners – Georgia Tech (GT), University of Illinois, Urbana-Champaign (UIUC), and University of Minnesota (UMN) – are leading the research activities for Project AME.  A GT research team is designing the additively-manufactured steel boom, stick and bucket. A UMN research team is responsible for the aluminum-powder bed 3D-printed oil cooler design.  The Oak Ridge National Laboratory (ORNL) is developing all processes required to 3D-print these excavator components.
Got a story? Email news@theconstructionindex.co.uk