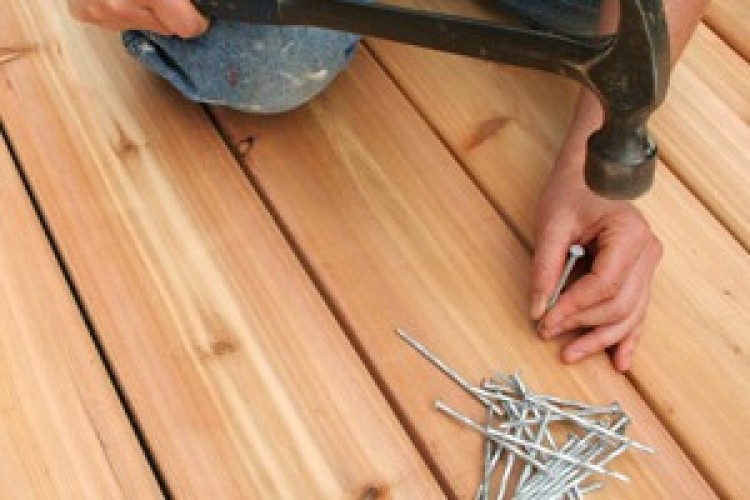 The monthly survey of construction industry purchasing managers by Markit Economics and the Chartered Institute of Procurement & Supply (CIPS) showed construction output still growing strongly in October, but with not quite the same ferocity as in the previous few months.
All three broad areas of construction activity posted a slower rise in output, led by the slowest upturn in residential building for 12 months.
The seasonally adjusted Markit/CIPS UK Construction Purchasing Managers' Index (PMI) registered 61.4 in October, down from 64.2 during September. Although it was the lowest reading for five months, the index remained well above the neutral 50.0 mark (indicating no growth) and was much higher than the long-run survey average of 54.5.
Construction industry growth has now been recorded for 18 consecutive months, which is the longest continuous period of growth since the onset of the global financial crisis in 2007/08.
Commercial activity was the strongest-performing category of construction output in October, despite this sub-sector posting its slowest pace of growth for five months.
Although still sharp, the latest expansion of housing activity was the weakest for 12 months and much slower than in September. Some survey respondents commented that less favourable housing market conditions had resulted in greater caution among clients and delays to the launch of new development projects.
Meanwhile, civil engineering activity was the weakest performing area of construction activity, but the rate of growth eased only slightly since September and remained well above its long-run average.
Softer growth of construction output reflected weaker new business gains in October. The latest increase in incoming new work was the slowest since May. The survey authors said that anecdotal evidence pointed to strong underlying demand for new construction projects, but there were some reports of delays to new contracts amid signs of a growth slowdown in the wider UK economy.
Construction companies continued to increase their staffing levels in October, reflecting strong pipelines of work and confidence in the business outlook. More than half of the survey panel (55%) anticipate a rise in output over the next 12 months, while only 9% forecast a reduction. That said, the latest survey indicated that the pace of job creation eased slightly in October and was the least marked for six months.

In line with weaker new business growth, latest data highlighted that purchasing activity across the construction sector increased at the slowest rate for five months. This contributed to reduced pressures on suppliers' lead times in October, with vendor performance deteriorating to the least marked degree since July 2013. Nonetheless, survey respondents still commented on stock shortages and widespread delays in the receipt of construction materials.
Deteriorating subcontractor performance and availability continued during October. The latest survey also highlighted a rise in subcontractor usage, as well as a sharp increase in hourly pay rates commanded by subcontractors.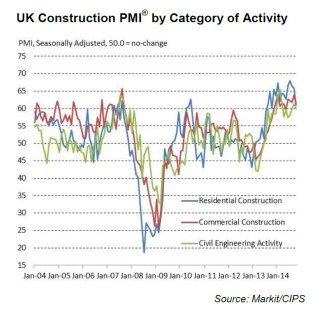 Markit senior economist Tim Moore said: "October's survey provides the first indication that the chill winds blowing across the UK housing market have started to weigh on the booming residential building sector.
"House-building activity still increased at a strong pace overall, but the sharp growth slowdown since this summer reflects greater caution towards new development projects amid tighter mortgage lending conditions and renewed uncertainties about the demand outlook.
"Despite signs that the house-building recovery has lost some intensity, UK construction companies remain highly upbeat about their overall prospects for growth. Survey respondents cited a broad-based improvement in domestic economic conditions and rising investment spending patterns as key factors likely to support construction output over the year ahead."
David Noble, chief executive of the Chartered Institute of Procurement & Supply (which changed its name from Chartered Institute of Purchasing & Supply last month), said: "This month the construction sector maintained an impressive growth trajectory and true grit with continuing strong levels of new business, albeit at a slower pace.
"Though it appears that the euphoria of the last few months is now settling down to a slightly more modest level of expansion, delivery times continue to lengthen and suppliers of raw materials are in high demand, making the completion of construction projects more challenging and showing how the number of available suppliers has not yet reached pre-recession levels.
"The commercial subsector is this month's star performer as residential housing expansion weakens. Although employment growth took a marginal dip this month in the construction sector, subcontractors were able to make up the shortfall, with greater demand for their expertise helping to push up salary rates at a near-survey record pace."
Got a story? Email news@theconstructionindex.co.uk