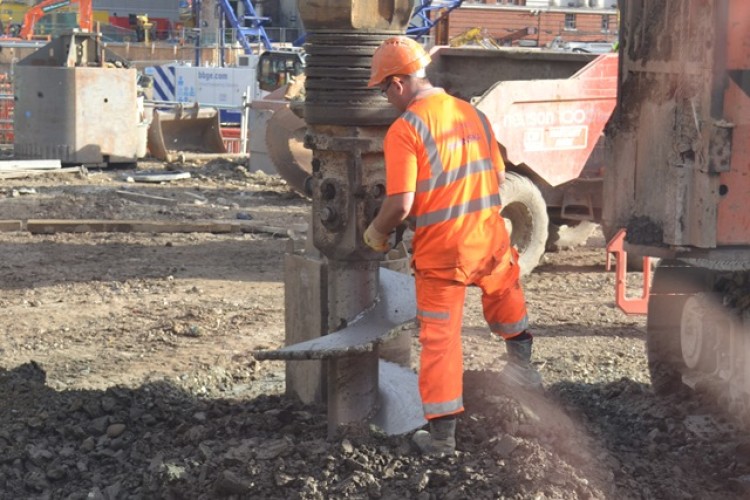 House-building remains the strongest performing sector of the industry but civil engineering and commercial construction are also now growing strongly.
Adjusted for seasonal factors, the Markit/CIPS UK construction purchasing managers' index (PMI) posted a score of 59.4, up from 58.9 in September.
Any score above 50.0 indicate growth and October was the sixth consecutive month of growth. The latest reading signalled that overall output growth surpassed August's recent peak and was the steepest since September 2007.
Housing activity remained the strongest performing area of the construction sector, despite the pace of expansion slipping from September's near 10-year high. Meanwhile, latest data pointed to accelerated rises in both civil engineering and commercial activity. The rate of growth in commercial activity was the most marked since April 2012.
Construction companies widely reported that output had been boosted by improvements in the UK economic outlook and a corresponding upturn in client spending. Survey respondents also cited better housing market conditions as a key driver of activity growth. October data indicated a sharp and accelerated expansion of overall new business intakes, thereby extending the current period of growth to six months.
However, the latest rise was slightly less marked than August's recent peak.
Higher levels of new work contributed to a robust increase in staffing levels during October. The latest upturn in employment levels was the steepest for six years and contrasted with the lacklustre rate of expansion seen on average in the first half of 2013. Anecdotal evidence suggested that resilient levels of confidence about the outlook for business activity had supported jobs growth in the construction sector during October. More than four times as many survey respondents (52%) anticipate a rise in output over the year ahead as those that forecast a reduction (12%).
The latest survey signalled a strong rise in purchasing activity by construction companies during October, driven by increasing output and greater volumes of new business. The rate of input buying growth was the sharpest since December 2007. There were some signs that the upturn in purchasing activity led to strains on stock levels and operating capacity at suppliers. Lead-times for the delivery of inputs lengthened markedly, with the latest deterioration of vendor performance the second-sharpest since June 2007.
Stronger demand for raw materials and higher utility bills contributed to upward pressure on input prices in October, according to survey respondents. Overall cost inflation picked up to its fastest since August 2011.
Markit senior economist Tim Moore said: "UK construction output continues to rise like a phoenix from the ashes, with housing, commercial and civil engineering activity all seeing strong rates of expansion at the start of the fourth quarter.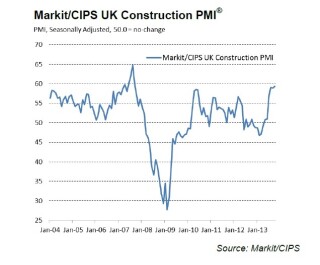 "Official data showed that the construction sector lived up to the strong billing given by business survey evidence during the third quarter of 2013. Importantly, the latest Construction PMI survey signals that job hiring and input buying are now rising in tandem with greater new business inflows.
"Improved opportunities to tender and a broadening of the recovery beyond housing activity have helped foster confidence in the longer-term outlook for business conditions. Highlighting this, the latest survey indicated that more than four times as many construction firms expect a rise in output over the year ahead as those that anticipate a fall."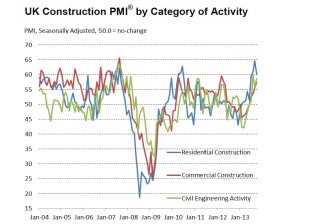 Got a story? Email news@theconstructionindex.co.uk