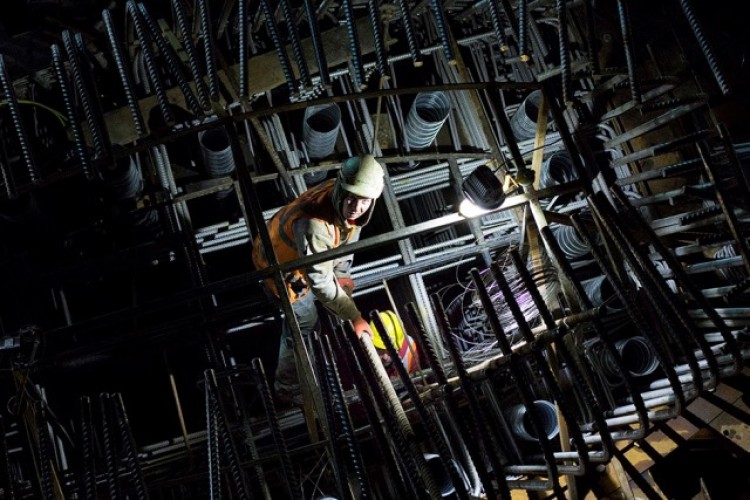 Contractors building the £120m New Wear Crossing have been working around the clock to construct two tusk-like structures inside the cofferdam in the river, which will support the two legs of the bridge's 105-metre pylon.
The bridge is being built by FVB joint venture, comprised of Farrans Construction and Victor Buyck Steel Construction.
Formwork comprising 75 tonnes of rebar has been fixed to the floor of the cofferdam and Tarmac is supplying 300 cubic metres of concrete.
Once complete this month, formwork will be removed and the tusks will stand more than eight metres tall, protruding over the top of the cofferdam wall.
The New Wear Crossing is on track to open in spring 2018, connecting Castletown to the north of the river with Pallion to the south.
It will create 2.8km of new road and will open up land along the River Wear for regeneration and development, as well as help to create up to 6,000 new jobs and improve journey time around the city.
FVB project director Stephen McCaffrey said: "The project is moving along at a pace and very soon people will be able to see the base of the pylon very clearly in the river.

"A lot of work has been concentrated around the cofferdam during the past few weeks as we have constructed the tusks in the river in readiness for the arrival of the main A-frame pylon next year.
"The tusks themselves are very complex, consisting of a lot of reinforcing steel, concrete and other elements to ensure we have the highest level of strength and support required to hold the pylon, and then ultimately take the weight of the cable-stayed bridge."
He said that work was also continuing on the south embankment to assemble the second section of bridge deck, with teams working within welding tents along the length of the deck to fix the huge steel sections together. Once the deck is complete, it will be launched out across the river in spring 2017.
Work started on the bridge in May 2015. So far, 579 accident-free days have been worked on site.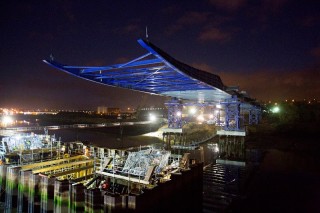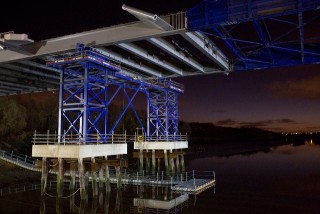 Got a story? Email news@theconstructionindex.co.uk