It has launched a second phase of public consultation on the project and published updated designs for how the station will look, which reflect changes made to the plans following the first round of consultation with passengers and public.
Glasgow Queen Street is Scotland's third busiest station with 20m passengers a year. It needs to expand to meet predicted growth to 28m passengers by 2030 and to accommodate the longer trains that will be running on key routes in the future.
Network Rail said that an alliance of Balfour Beatty, Morgan Sindall and Costain will start construction work next year and complete in 2019.
From feedback received during the first phase of consultation, changes made to the plans include:
the façade and the shape of the roof have been redesigned
the main access ramp has moved from outside to inside the building and is now within the glass frontage of the station
stairs at the entrance onto George Square have been widened
a footbridge running east/west at mezzanine level across the centre of the station has been removed.
The Queen Street redevelopment is part of the Edinburgh Glasgow Improvement Programme (EGIP), which will deliver a rolling programme of electrification across central Scotland over the next five years and beyond.
The second part of the public consultation will run from today until Monday 22nd December. The report on part one (which took place from February to May 2014) has been published at www.queenstreetredevelopment.com.

The consultation is being undertaken as part of Network Rail's application for a Transport and Works Scotland Order to acquire the powers and permissions needed to deliver the new station. The TAWS application will be submitted to Scottish ministers in June 2015.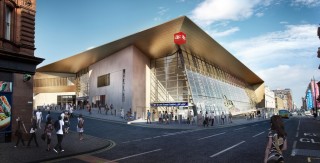 Scotland's transport minister Keith Brown said: "Queen Street is one of Scotland's most important stations. This consultation is informing plans which will transform the station into a 21st century transport hub.
"It will be an inviting and enjoyable place for people to begin or end their journey on some of Scotland's busiest rail routes, including the improved Glasgow-Edinburgh via Falkirk line through the EGIP [Edinburgh Glasgow Improvement Programme] scheme, which will result in 30% more seats and around 20% faster journey times on our flagship route.
"The redevelopment of Queen Street station will be another huge benefit of EGIP, which has already delivered the stunning new-look £25m Haymarket Station in Edinburgh, as well as improving journeys and facilities for passengers at all points in between."
Got a story? Email news@theconstructionindex.co.uk