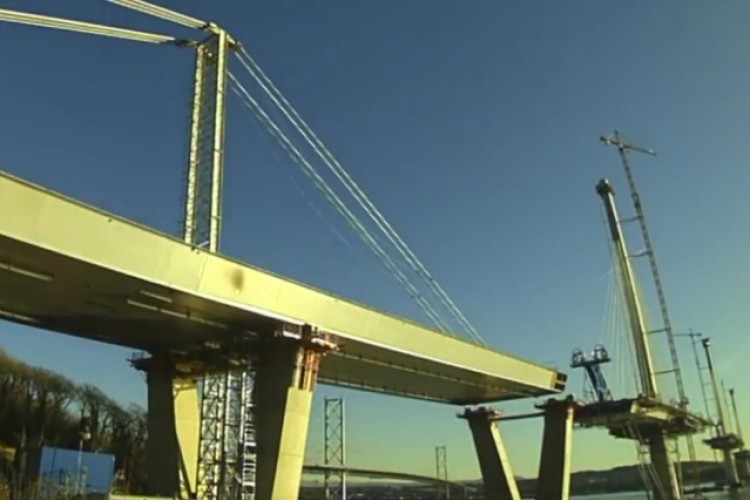 Unlike the south viaduct which was constructed in sections, the north viaduct was fully assembled on site and pushed out over static temporary supports as a single operation. It is more than 220-metres long and has travelled more than 230 metres. Adding the temporary equipment needed for the launch increases the total weight pushed to over 6,000 tonnes.
A distance of only 64 metres now remains between making the connection from the north viaduct to the north deck fan.
Michael Martin, project director for the consortium building the new bridge, Forth Crossing Bridge Constructors, said: "The launch of the north approach viaduct into its final position has been one of the most technically challenging operations of its type ever performed.

"A massive total of 6,300 tonnes of steel and concrete was launched out 230 metres, in itself a significant feat of engineering. But what makes this operation really special is the fact that we had to slide the trailing edge of the moving structure down two ramp walls in order to raise the front edge by two metres. This allowed us to pivot the entire structure over the top of one of the two support piers as it moved forwards, resulting in the viaduct structure being at the correct geometry to match the emerging deck coming from the north tower."
He added: "This operation was extremely technically challenging. It required the ingenuity of some of the best engineers in the world, to design and build the structure and devise the method of safely and successfully launching it out into position. This is the kind of work being delivered on a daily basis right across this amazing project."
The 2.7km bridge is being built by the Forth Crossing Bridge Constructors (FCBC) consortium, comprising Hochtief, Dragados, American Bridge and Morrison Construction under a £790m contract.
Got a story? Email news@theconstructionindex.co.uk