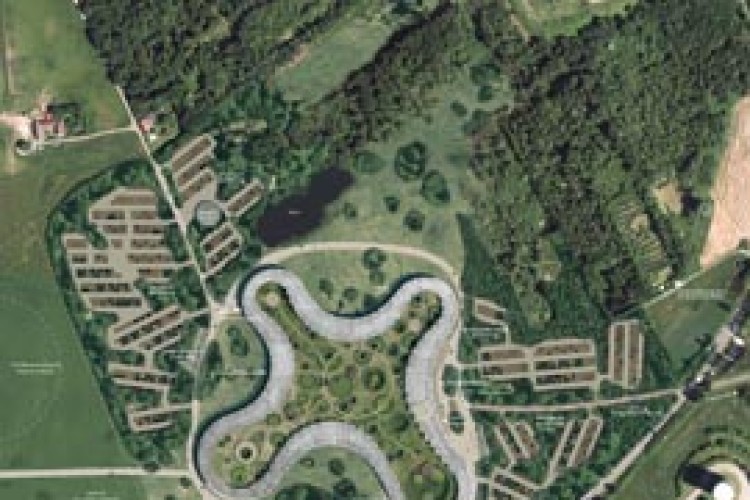 The architectural consortium of Herzog & de Meuron/Vilhelm Lauritzen Arkitekter won an international competition to design the hospital. 
The hospital will span over 128,000m2, serve more than 310,000 people and will have nearly 700 beds. The bottom two storeys of the building comprise diagnosis and treatment facilities with the top two storeys contraining a ribbon of wards surrounding a roof garden.
The design is envisioned as a pavilion set within the forest and brings together all the hospital's functions within one clover-shaped structure. The low-rise building reaches out horizontally into the landscape, surrounded by trees and native plantation. Unlike many other large-scale hospitals, the facility is intended to be inviting and welcoming and to maintain a human scale throughout, arranged around the roof garden sitting above the main diagnosis and treatment floors.
The upper level bed wards will open into the roof garden, or provide views out over the surrounding trees. The bed wards will be constructed from prefabricated modules made from either metal or wood, reducing on-site waste and embracing modern methods of construction. The flexible design can be adapted for future expansion, with large and uniform floor plates accommodating for shifts in usage and function.
"This is a very unique concept and one that I believe will inspire others around the world when designing hospitals in the future. We are both proud and delighted to be involved," said Lars Ostenfeld Riemann, Ramboll Group buildings director.
Got a story? Email news@theconstructionindex.co.uk