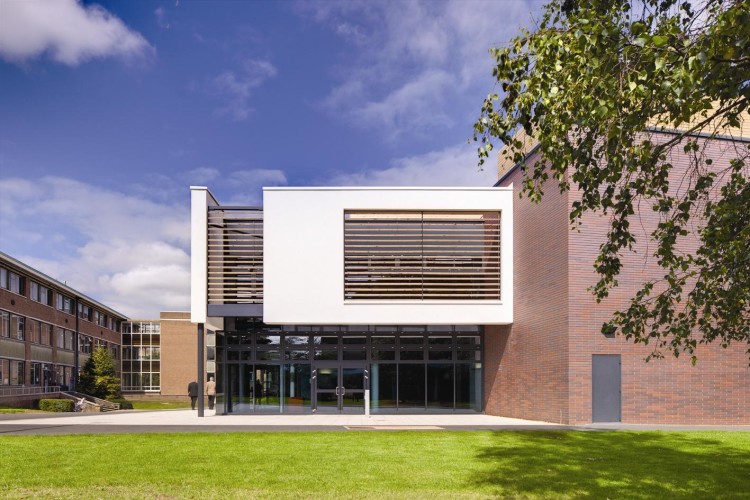 Designed by architects, Stride Treglown, the new halls of residence are part of the University's development programme.  The StoTherm Classic system is applied to three accommodation blocks and fixed using Sto-Turbofix.
Stephen Wilson, Associate Architect at Stride Treglown comments, "I have used Sto in New Zealand on quite a few projects at my previous place of employment, and although it is more widely used now, we were one of the first in NZ to do so. 
"We specified that the Sto EWI system be used at Reading due to the stringent U-value requirements we had to meet and the aesthetic abilities of the product. We chose StoTherm Classic because it has a proven track record, breathable render and reinforcement properties.  The halls of residence have one side of the building clad in a brick slip system and the other in Sto EWI. The two products are very compatible as both are direct fixed to the precast concrete external walls, reducing the need for cavity closers and the like."
"Although we are very familiar with Sto, we did not know about Sto-Turbofix or its benefits as an adhesive fix.  We had originally specified for the system to be mechanically fixed, before the benefits of the Sto-Turbofix application had been explained."
Sto-Turbofix is a single component, polyurethane based adhesive, supplied in pressurised canisters and dispensed using a pistol and hose-, which means that no materials need to be mixed on site.  Sto-Turbofix excels in adhesion levels over traditional cement based adhesives and as foam adhesive offers similar insulation properties to the EPS boards.
Guy Silverton, Contracts Manager at ECL Contracts comments, "We deliberately trialled Sto-Turbofix on this project because of all the benefits the system provided.  It proved to be very successful.
"Sto-Turbofix offered us many advantages including its coverage to weight ratio - a single canister weighing only 14kgs provided 50-70m2 where over half a tonne of powder would have been needed to do the same area.  It also meant that transportation needs were decreased (benefiting the environment) – less lorry deliveries to site, less mess, and being lightweight, it enabled our applicators to carry the canister easily around the scaffold, making application on site easier and safer.
"Now we've experienced the benefits of the system, we shall definitely be using it more and more.  It's a quick system that can allow both the bonding of the insulation to the background and the basecoat to be done on the same day, rather than alternate days.  Its high adhesion also allows for a 10mm tolerance.  The system itself can accommodate up to 20mm of tolerance but anything above 10mm requires additional mechanical fixings.
"Less waste is created as the canisters it comes in can be disposed of in general waste and recycled with metal, and less storage is needed.  Overall, Sto-Turbofix allows for quick and easy application and enables our men to get their jobs done cleanly and efficiently."
This fast, clean and cost-effective method of application has been adapted for use with StoTherm Classic and StoTherm Vario EPS insulation systems and has an initial set time of 10 minutes and is cured within two hours, ready for over coating.
Got a story? Email news@theconstructionindex.co.uk