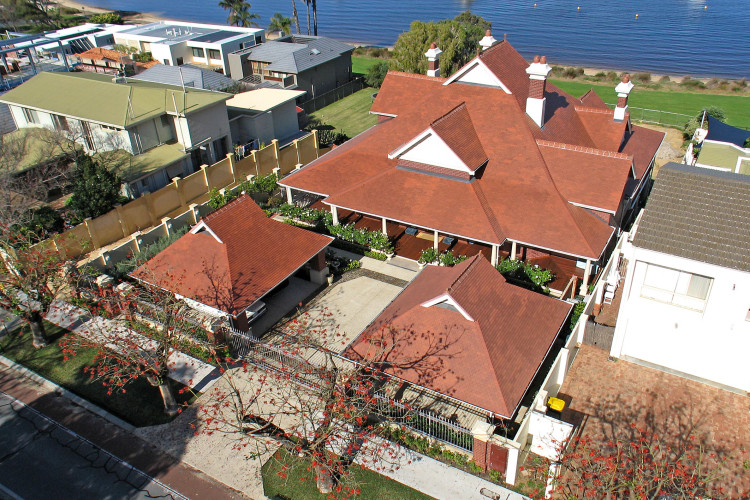 46,000 Redland Rosemary clay plain tiles were recently shipped to Perth, Australia by UK contractors Steadfast Roofing to re-roof a historic two storey home built in 1911. Steadfast arranged to ship the replacement tiles to Carter Roofing and Slating Pty Ltd who carried out the re-roofing project at Claremont in the heart of Perth, Western Australia.
The fully restored building has won two prestigious industry awards in Australia: 2010 HIA Renovations/Additions Project of the Year Award and 2010 Bankwest Housing Award for the category of '2010 Best Alterations & Additions over $1 million', with the re-roofing work a crucial element in its success.
The decision to import Redland Rosemary clay plain tiles was taken early on in the restoration project. Carter Roofing & Slating was consulted on condition of the roof and although the original tiles were still in excellent condition, with no fretting, it was decided to strip the roof and relay identical new Rosemary tiles from Redland, who in fact made the originals.
Richard Hartley, Redland Head of Marketing, commented: "The completed roof using our Rosemary clay plain tiles, produced in England, is one of the most impressive I have seen. It is pleasing to know that the contractors who installed it were also produced in England, having emigrated down under years ago and I hope England's cricketers can pull off a similarly impressive job this winter."
The team of dedicated tradesmen repaired the roof with meticulous attention to detail in order to restore its historic look, in keeping with conservation values. Despite being true to its past the building was also smart-wired, with pool, sauna, cool room, wine cellar and 4 bedrooms all with en-suite.
Got a story? Email news@theconstructionindex.co.uk