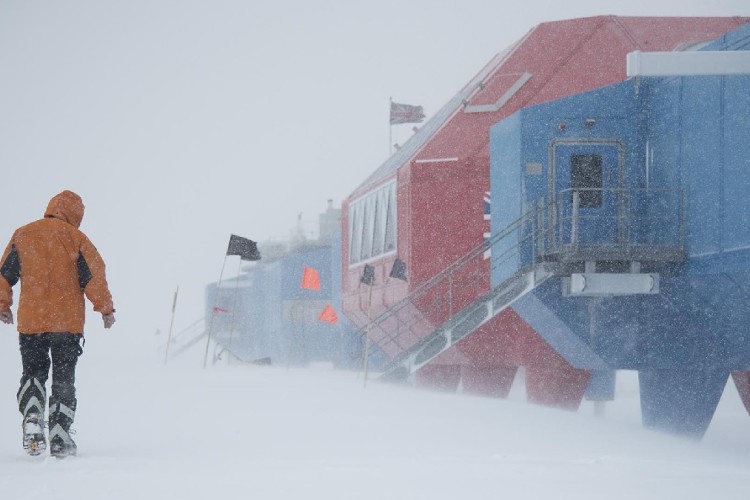 British Antarctic Survey (BAS), supported by technical advisor Ramboll, has been working throughout the summer to move the station as there is a growing threat coming from an advancing chasm. All team members have now left the research station for the winter.
Operational teams, including Ramboll's Ben Rowe, spent 13 weeks moving each of the station's eight modules 23km upstream of a previously dormant ice chasm.  The station is now ready for re-occupation in November 2017, at the end of the Antarctic winter.
This is the first time that the station, which has a re-locatable design to cope with life on a floating ice shelf, has been moved since it was towed from its construction site to its present location in 2012.
Halley Research Station is modular. Each module can be de-coupled from the others and towed across the ice by tractors. In 2015/16 field season glaciologists and operational teams conducted a survey to identify a new site for Halley Research Station which is located 23 km upstream on the Brunt Ice Shelf. Operational teams identified a safe route across the ice to the new site named Halley VI a. The relocation project is being carried out over three years. The focus for the 2016-17 season is establishing temporary camps for housing the workforce and starting to move some station infrastructure to the new site.
The station sits on Antarctica's 150m-thick Brunt Ice Shelf. This floating ice shelf flows at a rate of 0.4km per year west towards the sea where, at irregular intervals, it calves off as icebergs. Halley VI research station is crucial to studies into issues such as the impact of extreme space weather events – for example solar storm-induced electricity blackouts - climate change and atmospheric phenomena.  It was scientific investigations from this location that led to the discovery of the Antarctic ozone hole in 1985.

BAS director Dame Jane Francis said: "The relocation is a terrific achievement for our operational teams.  Everyone who has worked so hard is absolutely buoyant about the success of the move. They talk about the great collegiality, what a great team they made, and how much they will miss working together. They are very proud of what they achieved – and I am proud of them all."
The Halley VI relocation team has carried out for the first time what the station was designed to do – move.  Ramboll engineer Ben Rowe was part of the team, posted to work on specialist engineering and consultancy services - and earned the nickname 'Calc' for his mental arithmetic during on site discussions.
"If you select people with the required mind set and send them on a journey to the Antarctic to achieve one outcome, you witness how quickly a tight knit team can form," he said. "I leave Antarctica with a feeling of great privilege to have been part of that, whilst experiencing this dynamic project in this absolutely amazing continent."
Adam Bradley is the project manager for the relocation of Halley VI. He said: "Delivering a complex project like this in remote Antarctica requires exceptional people. The team down here this season surpassed our expectations – they worked incredibly hard, often in very difficult conditions, to get the job done safely and on schedule. The camaraderie of the group has been amazing, which made the season fun as well as successful."
Got a story? Email news@theconstructionindex.co.uk