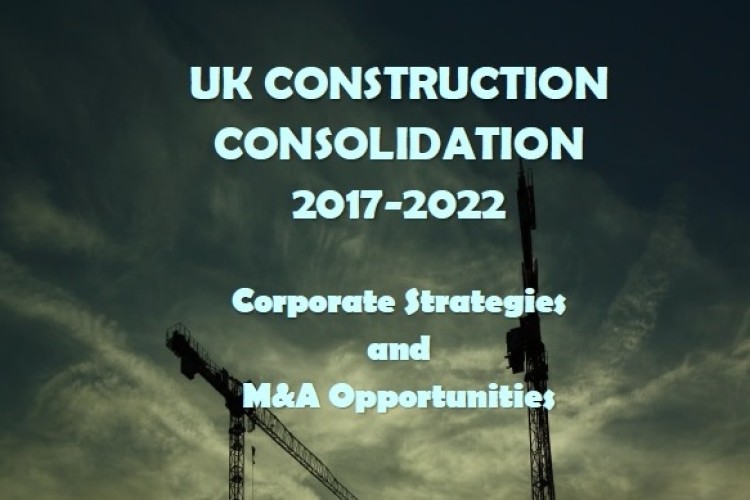 In the face of growing overseas influence in the market, UK construction industry consolidation is needed, the report says.
Greg Malpass, construction industry strategist, former corporate development executive at Taylor Woodrow, Tarmac and Wimpey, and now an independent mergers & acquisitions analyst, has produced a 360-page industry research report calling for UK contractors to merge to make them better able to compete against overseas competitors.
The report analyses how the UK's biggest contractors struggle to match up to the European majors like Vinci, Skanska, Bouyges and ACS and how consolidation would strengthen them.
The call for consolidation is supported by industry veteran Sir Neville Simms, chairman of Thames Tideway, and previously chief executive of Tarmac and chairman of Carillion, who writes in the foreword: "British contractors are in danger of missing out on major international projects in the future, if they lack the financial muscle and diversity of say a £15bn-a-year contractor to handle the more complex projects."
On the premise that further consolidation in the industry "must and will take place", Sir Neville predicts that "increased market share, more innovation, improving profitability and more certain returns to shareholders should lead to a construction sector that in the future is both financially and operationally stronger."
In his report, Greg Malpass writes: "With an industry plagued by wafer-thin margins and some top construction groups declaring massive losses in the last three years (eg Balfour Beatty, Laing O'Rourke) it is no longer enough for major UK companies to focus on sustaining industry standard margins."

The industry's structure, contractor risk, and pressure on margins is holding back what are otherwise favourable infrastructure and housing sector outlooks already starting to get populated by leading European and global construction groups which operate in a different league in terms of size, financial strength and diversity, he argues.
The report concludes that consolidation will be best achieved by mergers between the strongest UK groups to benefit from synergies and strengthened balance sheets; followed by a new era of capital raising, investment and diversification strategies into higher margin expanding non-contracting and international activities, exemplified by companies such as ACS and Ferrovial of Spain, and Amec-Foster Wheeler.
Mr Malpass says that Costain has been continually punching above its weight since its near demise in the early 1990s. He says: "But its days as an independent company are probably numbered now the supportive minority shareholders have diluted their holdings and their nominees have left the board. With its cash position deteriorating somewhat, and future acquisition aspirations of any substance waning, surely it's time to seek to be positively acquired by a larger financially robust partner who can help it back into a Tier 1 position it deserves, given its unquestionable engineering capabilities."
Interserve is also identified as a likely merger proposed: "Interserve is a good candidate for merger to form one of the top tier construction groups in the UK. Due to its low market capitalisation, it could otherwise become an acquisition target."
Carillion also needs to merge with someone, he argues. "There are compelling reasons why Carillion should find a large merger partner. But focusing just on Balfour Beatty's woes since the failed merger in 2014 does not do justice to both sides of the argument. Two years since the failed buy, Carillion's margins have declined at the operating level. Net borrowing is higher than expected and a weak pound hurts, as Carillion's private placement borrowing is denominated in US dollars."
And the same goes for Balfour Beatty: "Balfour Beatty needs to proactively get successfully acquired or merged, asap. That way it can easily achieve synergistic savings, and provide a compelling investment case for shareholders regarding the future direction and success of the company. While it is focusing on retrenchment and consolidation in its core contracting businesses, it does not have the luxury to do what it needs to do for the longer term, which is to put in place a strategy, and the financing, for future diversification outside contracting."
Got a story? Email news@theconstructionindex.co.uk