This is the conclusion of the latest construction market survey from the Royal Institution of Chartered Surveyors (RICS).
After a horrible recession for the industry, activity has slowly begun to pick up this year, RICS says. During the second quarter of the year a net balance of 21% more surveyors reported rises in workloads, the most positive reading for more than six years. After so many years of contraction, there is still not much work about, but at least this upturn may suggest that the worst could now be over.
There is also an air of optimism among surveyors, with 59% more respondents predicting workloads continuing to rise rather than fall back.
Across the country, London saw the biggest rise in activity, followed by the southeast and the Midlands. Northern Ireland registered the lowest reading, with a net balance of minus 4%, but even this was still better than previous recent surveys.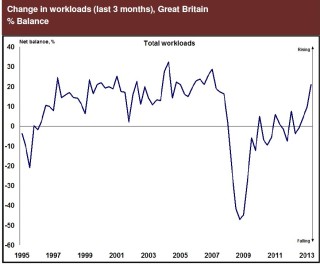 RICS chief economist Simon Rubinsohn said: "It is clearly good news that the amount of construction taking place across the country seems to have turned a corner. But this modest improvement comes after a long period of contraction and many businesses in the sector are still struggling to keep their heads above water.
"Securing finance for development is still a big challenge and, despite the government's attempt to revamp the planning system, the feedback we are getting suggests that this issue also remains a major obstacle to getting projects under way."
Got a story? Email news@theconstructionindex.co.uk