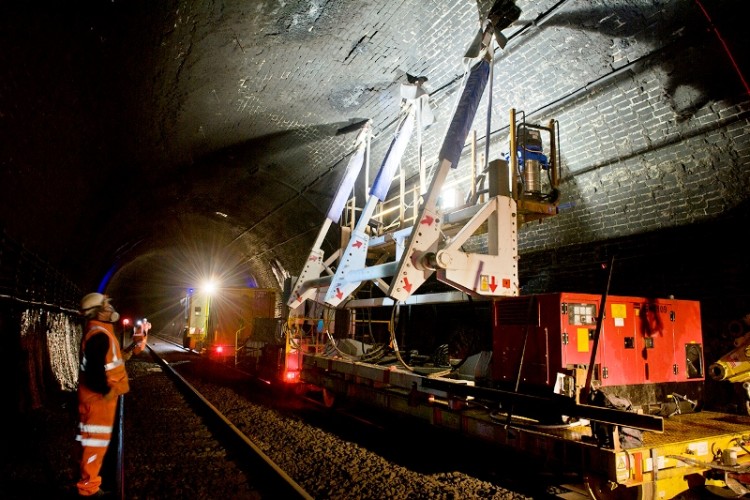 Instead of traditional overhead wires, the system going into the 7km-long, 130-year-old tunnel (and several others on the Great Western route between London Paddington and Cardiff) will consist of an aluminium rail, held to the tunnel roof by drop tubes and registration arms, with the contact wire that carries the power supply fed into a slot in the base of the rail.
The project is being undertaken by the ABC Electrification joint venture, which comprises Alstom, Babcock and Costain.
The system is used widely in other European countries but has not previously been used in the UK on ballasted high-speed track. Made by Swiss company Furrer+Frey, the Rigid Overhead Conductor Rail System (ROCS) has several advantages over the usual overhead wire system, according to Costain project manager John Skentelbery.
"It's a more robust system than overhead wires, with reduced maintenance," he said. It also gives improved contact with the pantograph on the locomotive.
ROCS is also much more compact than the traditional wired system: "It can be used in tunnels where headroom is constrained. Wired solutions need quite a bit of headroom; with the conductor rail system we can minimise the amount of work needed on the track to give us the necessary clearance."


In some tunnels the track level has to be lowered to install electrification equipment: "Remember that these are Victorian tunnels that were never designed for electrification. We're trying to minimise the amount of intervention needed on the track."
Because of damp in the tunnel, the metalwork holding the ROCS to the tunnel structure are made of high grade stainless steel with a lifespan of around 60 years.
It is also the first time – apart from on a test track – that ROCS has been used above ballasted track. Previously, it was used in conjunction with slab track, where the tracks are concreted into the base of a tunnel.
The system is being put through a product acceptance process with Network Rail.
Got a story? Email news@theconstructionindex.co.uk