And the government's current approach is slammed as 'not fit for purpose'.
A child born today can expect to witness sea levels around the UK rising by a metre or more in their lifetime, the committee says, and so a new approach is needed to protecting at-risk property.
The Committee on Climate Change (CCC ) has today published a report titled Managing the coast in a changing climate to address the rising pressures that coastal communities face from the risk of flooding and erosion.
Long-term action to adapt England's coasts to climate change in a sustainable way is possible and could deliver multiple benefits. However, the Committee finds that plans for the coast are not realistic about the implications of climate change, and are not backed up with funding or legislation.
The report, from the CCC's adaptation committee, highlights that there are 520,000 properties in England, including 370,000 homes, are located in areas at risk of damage from coastal flooding, and 8,900 properties are in areas at risk of being lost through coastal erosion.
Damage caused by flooding and erosion cost an average of £260m a year, it says
The report says that by the 2080s, up to 1.5 million properties, including 1.2 million homes, may be in areas at significant level of flood risk and more than 100,000 properties may be in areas at risk from coastal erosion.

In addition, 1,600km of major roads, 650km of railway line, 92 railway stations and 55 historic landfill sites are at risk of coastal flooding or erosion by 2100.
Coastal management in England is covered by a complex patchwork of legislation, and is carried out by a variety of organisations with different responsibilities. Conflicting aims mean that coastal erosion and flooding are not getting the attention they deserve, the CCC argues. Long-term shoreline management plans for coastal areas in England cannot be relied on to solve the problem as they are not legally-binding and contain unfunded proposals, it says.
The committee recommends that the Environment Agency and local authorities should work together to develop long-term strategies that are rigorously implemented in local plans, regulations and projects.
It also says that the government's approach to the management of coastal flooding and erosion risk needs to change. "A new approach should be long-term, evidence-based, and include the views of coastal communities," it says. "The government should make long-term funding and investment available to protect coastal cities and infrastructure, restore more coastal habitats and help affected communities cope with inevitable changes."
Professor Jim Hall, the CCC adaptation committee's expert on flooding and coastal erosion, said: "As the climate changes the current approach to protecting the English coastline is not fit for purpose. It's time people woke up to the very real challenges ahead. As sea levels rise and flooding and erosion get worse, we have assessed that current plans for around 150 km, or 90 miles, of the coastline are not cost-beneficial to implement. The government and local authorities need to talk honestly with those affected about the difficult choices they face. Climate change is not going away: action is needed now to improve the way England's coasts are managed today and in the future, to reduce the polluting emissions which cause climate change, and to prepare seaside communities for the realities of a warming world."
Managing the coast in a changing climate can be downloaded from www.theccc.org.uk/publication/managing-the-coast-in-a-changing-climate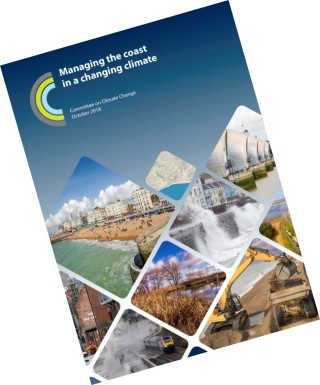 Got a story? Email news@theconstructionindex.co.uk