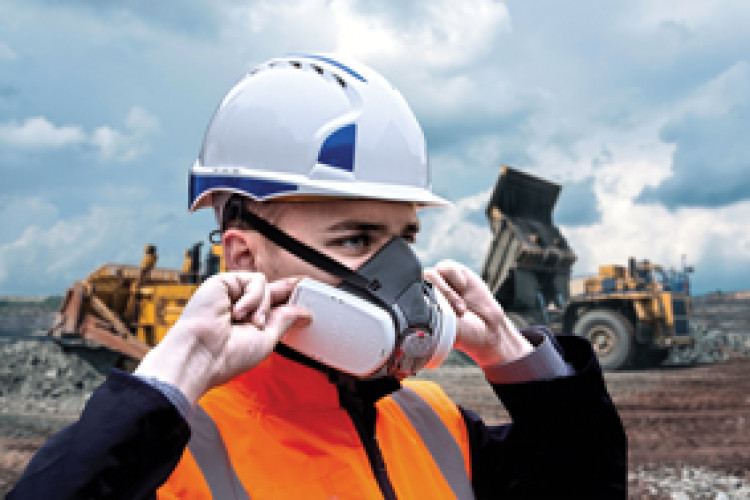 Fake designer clothes are a thorn in the side of the genuine brands but, let's face it, most of us don't consider it a hanging offence to sell a knock-off Superdry teeshirt (What's that? -Online ed.). But what about the trade in dodgy hard hats, protective gloves and other items of personal protective equipment (PPE)?
Last year, JSP, one of Europe's leading PPE manufacturers, alerted the industry to the arrival in the UK of a consignment of counterfeit JSP hard-hats – so badly made that you could split them in two with your bare hands.
Clearly, this fakery has the potential to damage JSP's reputation. But it also puts the wearer's health at risk. And it's not just the fakes that pose a risk. There's plenty of stuff out there that's made down to a price and fails to comply with the required standards.
Unfortunately there's a ready market for budget-priced PPE. Many wearers adopt a cavalier approach to PPE right up until the moment a brick falls on their head or a fast-moving fragment of metal lodges under their eyelid. By which time, of course, it's too late.
Under the current European PPE Directive, it is the manufacturer's responsibility to ensure that its products comply with the appropriate performance standards.
And while it's entirely right that manufacturers take responsibility for their products, the current regime creates a loophole for importers and retailers who can market products they know are substandard without fear of being held to account.
This is all set to change with the publication of a revised PPE directive, currently in draft form.
"The review of the directive has identified a number of gaps which allow people to get around it," says Matthew Judson, technical director with JSP.
The new draft identifies what it calls "economic operators" – those who are involved in the production, marketing and sale of PPE products, including not only manufacturers like JSP but also distributors like Greenham, Parkers Merchanting and indeed any importer or retailer.
"The new directive brings retailers, distributors and manufacturers together with the same responsibilities. That means they've all got to ensure compliance and keep records," says Judson.
As a manufacturer, JSP has to keep records of all its production for 10 years from the date of issue. This includes all test reports and other evidence proving that the product complies with the requirements of the appropriate British or European standard.
Judson welcomes the tightening-up of the directive, explaining that even some big retailers and distributors are not above trying to exploit the loophole.

He tells of a large UK-based online retailer which asked JSP to source a chainsaw glove, a product that JSP does not manufacture itself. "We struggled to find anything within the customer's price range that got past our scrutiny," says Judson.
At this point, the customer said that its parent company - located outside the EU – had a supplier of gloves. Why couldn't JSP get them from the same manufacturer? Clearly, sourcing the gloves was not a problem; what the potential customer wanted was to hide behind JSP's reputation as a manufacturer. This sort of chicanery will be made much more difficult under the new directive, says Judson.
Another improvement is the proposal to limit the validity of PPE product certificates to five years. This is intended to weed out products that have become obsolete, superseded by newer regulation or simply overtaken by newer, better products.
"We have a product that was passed back in 1974," says Judson. "We don't produce it any more – there have been at least four standards changes since then – but in theory we could still sell a product that's no longer state of the art."
Besides tightening up a few loopholes, the revised directive is also re-classifying a number of items of PPE. The directive sorts PPE into three basic categories: Cat 1 ('simple') Cat 2 ('intermediate') and Cat 3 ('complex'). Those in the Cat 1 include products designed to protect against superficial injury or discomfort (for example, sunglasses) while at the other end of the scale, Cat 3 includes equipment designed to protect against 'very serious risk'.
The revised directive proposes moving a number of products, including life-jackets and stab/bullet-proof vests (both thankfully seldom required on most construction sites) from Cat 2 to Cat 3. More important to construction workers is the proposed upgrading of hearing protection from Cat 2 to Cat 3. Judson says this change in category is the most significant and indicates the extent to which the risk of hearing damage is underestimated. "The damage is cumulative. You don't notice that it's happening at the time," he says.
Though currently only in draft form, the new directive is now effectively fully revised. "The only changes now will be to the wording; the provision aren't going to change," says Judson. Despite that, it is unlikely to come into effect very soon, thanks largely to Brussels bureaucracy.
First the European Parliament and Council must reach a 'co-decision' on the new directive. This will not happen before September this year. Publication of the revised legislation is not expected until sometime in 2016.
There will then be a transition period of 12 to 14 months before the new directive is enacted in member states. It has taken CEN, the European standards institute, 20 years to produce its first revision of the PPE directive. We can't expect it to rush into print just yet.
This article first appeared in the May 2014 issue of The Construction Index magazine, which can be viewed in full at: http://epublishing.theconstructionindex.co.uk/magazine/may2014/
While the magazine is free to view online, a subscription is required to receive you own hard copy every month. This can be purchased for just £35 a year at http://www.theconstructionindex.co.uk/magazine
Got a story? Email news@theconstructionindex.co.uk