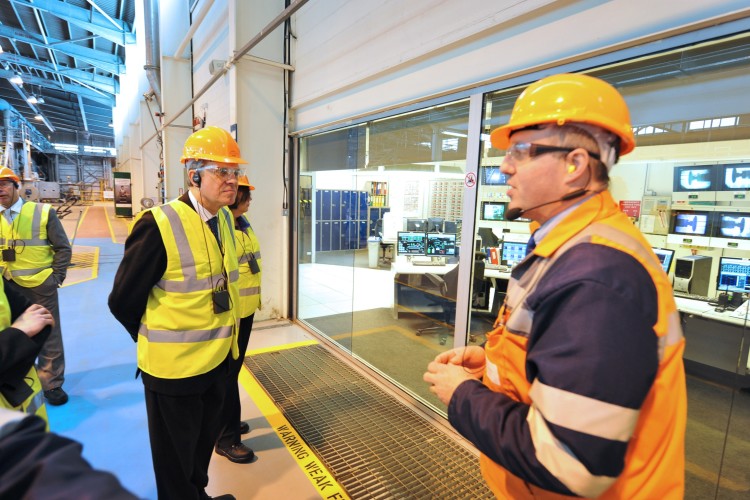 As part of his visit the Ambassador also received a tour of British Gypsum's industry leading plaster production plant in East Leake, Leicestershire.
The Ambassador was received by Peter Hindle, MBE, general delegate for Saint-Gobain in the UK, Ireland and South Africa and Pierre Lucien-Brun, managing director of Saint-Gobain Glass UK. 
The Ambassador was given a guided tour of the float plant, including the state-of-the-art laminating line which produces SGG STADIP and SGG STADIP SILENCE laminated safety glass, used by the building and architectural sector.  The tour also encompassed Saint-Gobain Glass' magnetron coating facility, installed in 2003 as part of a £15 million investment at the Eggborough plant.  The coater, the first of its kind in the UK, is dedicated to manufacturing high performance low-E glass for the UK and Irish markets, including its industry leading SGG PLANITHERM range.
Following this, the Ambassador travelled to the British Gypsum site in East Leake, where he was given a tour of the company's mining facilities.
Saint-Gobain Glass is celebrating a highly successful decade at the Eggborough site. In 2005 the company was named Factory of the Year at the prestigious Best Factory Awards, as well as receiving awards for Best Process Plant, Health, Safety and the Environment and the Regional Award for Yorkshire and Humber.
In 2006, then MP, David Cameron presented the company with the 'Business Commitment to the Environment' award, given in recognition of the plant's innovative flat glass cullet recycling scheme.  The scheme sees Saint-Gobain Glass collecting and recycling its customers' cullet, lowering the company's consumption of raw materials by almost a quarter and reducing the energy consumption at the site by eight per cent.
As a result of its commitment to reducing its impact on the environment, the company was named as one of the UK's greenest companies in 2008 and 2009.  The list, compiled by The Sunday Times, is a comprehensive evaluation of companies' approach to environmental management, the knowledge of its employees and environmental performance, with Saint-Gobain Glass ranking eighth overall.
Peter Hindle MBE, General Delegate of Saint-Gobain UK, Ireland and South Africa and Chief Executive of Saint-Gobain Building Distribution UK and Ireland, comments: "The Saint-Gobain Glass UK plant is a market leading manufacturing facility and has been recognised throughout the years for its dedication to reducing its environmental impact, an issue that is becoming increasingly important in the our industry and society as a whole. 
"Saint-Gobain is committed to developing innovative products and solutions for a more sustainable future and the glass float plant is a prime example of how our continual investment in cutting edge technology is enabling us to produce the most environmentally friendly products available on the market today."
Got a story? Email news@theconstructionindex.co.uk