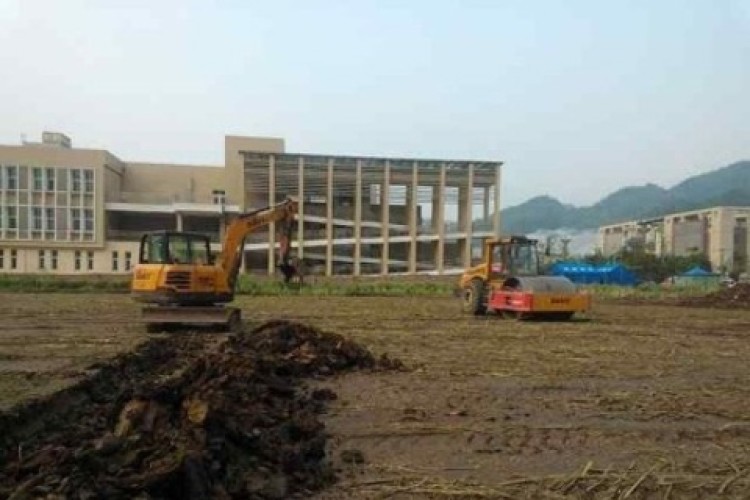 Within 75 minutes of the quake, Sany sent its first advance team to the area.
The company has sent mobile cranes, excavators, vehicles and five rescue teams in response to the 7.0-magnitude earthquake that struck the province's Lushan County area on Sunday, killing more than 190 people and injuring 11,000 others.
Sany sent 18 mobile cranes, 10 excavators and 25 vehicles to Lushan County. The excavators have been used to clear roadways buried by landslides. Truck-mounted cranes are being used to install prefabricated housing units for families whose homes were damaged by the quake. Another truck crane is being used to hold up the facade of a stadium building that continues to be rattled by aftershocks. The stadium is doubling as an emergency shelter.
"The work of removing the danger so high up had to be implemented immediately," said Zhu Wenkui, Sany deputy general manager, who has been chronicling relief efforts from Sichuan Province. "After the county headquarters gave the order to remove the danger, Sany equipment and staff got in front of the task."

Sany excavators and road rollers are being used to level hundreds of acres of land to facilitate erection of tents for temporary shelter. The vehicles are being used to distribute rice, instant noodles, water, toiletries and other necessities.
More than 100 Sany rescue workers are part of relief efforts, including some who served in the same role in the 2008 Sichuan earthquake that killed nearly 70,000 people.
Sany volunteers have come from near and far to help, including Wang Ting, an excavator operator who worked on a rescue crew after the 2008 earthquake; and Song Shengyin, who traveled more than 600 miles from his Sany job in Xi'an, China. Sany volunteers distribute food and water, help carry the wounded to hospitals and work to construct resettlement villages for people who cannot return to their homes.
Wang, the excavator operator, was so touched by Sany's relief efforts after the 2008 earthquake that he came to work for the company. "After 10 days working together with the Sany team in the emergency situation, he was deeply moved by the dedication and spirit of the Sany people," Zhu said. Wang was among the first volunteers to travel to Sichuan Province after the April 20 earthquake.
Got a story? Email news@theconstructionindex.co.uk