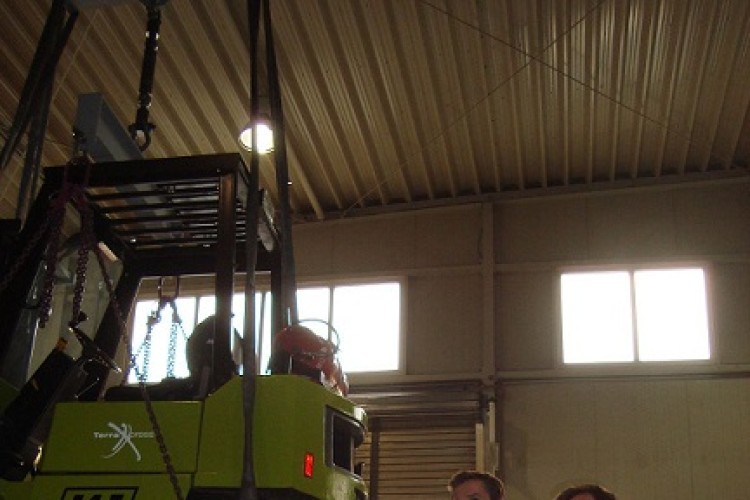 Scotch-Weld Instant Adhesive from 3M was the product responsible lifting an 8.1 metric tonne (17,857 pound, 2990 PSI) forklift truck in the air for one hour. The vehicle was suspended from a crane by a steel cylinder only 7cm in diameter, with the two parts of the cylinder secured together with Scotch-Weld Plastic & Rubber Instant Adhesive PR100.
Matt Jubb of 3M's Industrial Adhesives and Tapes Division explains: "3M has long been known for its expertise in adhesives and we're excited that this demonstration proved just how strong and reliable Scotch-Weld Instant Adhesives can be."
The vehicle lift was conducted by engineers Jens Schoene and Dr. Markus Schleserof RWTH Aachen University, and was featured on the German televisionprogrammeTerra Xpress. Guinness World Records adjudicator Olaf Kuchenbecker was on hand to witness the lift and certify the new record. The team had to meet several formidable conditions to break the previous record of 8.01 metric tonnes, but succeeded thanks to the exceptional performance of Scotch-Weld Instant Adhesive.
The record-breaking Scotch-Weld Plastic & Rubber Instant Adhesive PR100 is part of the full range of Scotch-Weld Instant Adhesives by 3M, which are availablein a number of formulations for bonding various substrates.


"This technology offers a practical, easy-to-use alternative to conventional attaching methods like bolts, welds, rivets and screws in many industrial applications requiring high strength joints," added Matt.
While the new world record shows the product's incredible strength in an extreme application, Scotch-Weld Instant Adhesives are also economical to use in everyday applications. Generally, only a few drops of adhesive are needed to develop strong bonds to many metals, plastics and rubber. These super fast-curing adhesivesreach handling strength with hundreds of material combinations in five to ten seconds, and reach 80 per cent of their full strength in an hour. Additional qualities like lowodour, high temperature resistance and flexibility to resist vibration make them simple and practical to use for almost unlimited applications.
Finally, as evidenced by the new world record, these products are capable of delivering tonnes of holding power.
To celebrate this incredible new world record and share the success of Scotch-Weld Plastic & Rubber Instant Adhesive PR100 with its customers, 3M is offering a temporary special price until May 31, 2012. 
Got a story? Email news@theconstructionindex.co.uk