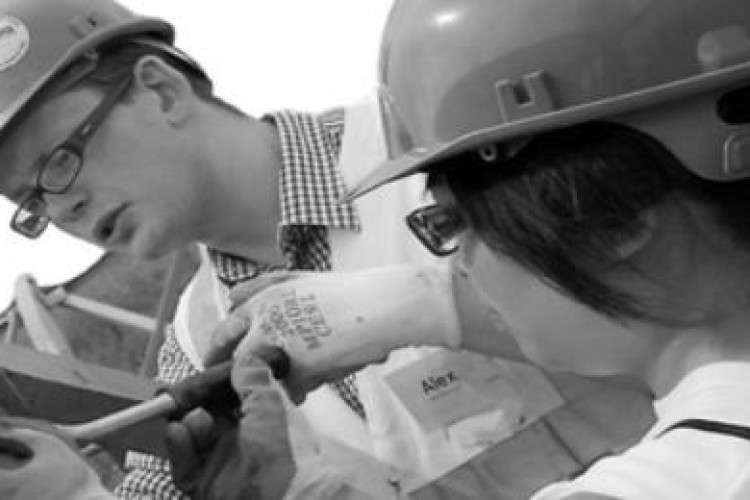 The new figures have been released by the Scottish Building Apprenticeship &Training Council (SBATC), the body responsible for registering all apprentices from the traditional building trades in Scotland.
The 2014 registration figure is 20% higher than the number of Scottish building apprentices indentured in 2012, when numbers reached a 15-year low of 1,299. But apprentice numbers remain 42% below their historic peak of more than 2,700 apprentices registered in 2007, immediately before the recession.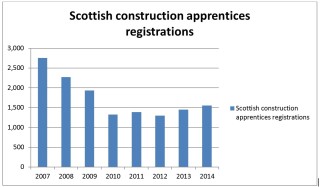 The apprentice registration figures were released as latest official statistics showed that the Scottish construction industry employed 6,000 fewer workers at the end of 2014 than it had at the end of 2013, taking direct employment within the sector to 177,000. This fall in industry employment was recorded during a year when overall output from the industry actually increased by 16%, taking its overall value to the Scottish economy to more than £12bn.

Commenting on the latest apprentice registration figures, Paul Mitchell, SBATC registrar and head of employment affairs at the Scottish Building Federation, said: "Apprenticeship numbers in the traditional building trades are continuing to improve following six years of decline between 2007 and 2012. We hope and anticipate that this trend will continue over subsequent years as the industry continues to recover.
"However, whilst growth in apprenticeship registrations is always welcome, levels of apprenticeship recruitment have remained relatively low in recent years with industry employment and apprentice numbers still well below pre-recession levels. In this context, it's very important that we ensure that there is balanced growth across all sectors of the industry. There is currently a spike in infrastructure investment as the Queensferry Crossing approaches completion in 2016. However, growth in the private commercial and repair and maintenance sectors is much more modest. Representing almost half of the industry's output, it is these sectors together with house-building that will drive future growth in apprentice numbers.
"In addition we also have to ensure that the construction apprenticeships offered are fit for purpose and reflect the needs of employers. To this end, we have recently introduced phase tests, improved the evidencing of learning whilst on site and enhanced the delivery of health and safety training through a partnership with CSCS." 
Mr Mitchell concluded: "We need to continue to get the message across that the construction industry can offer a wide variety of high quality, long-term career opportunities across a broad range of trades as well as in professional and managerial roles. With the industry in recovery mode and apprentice numbers on the rise, there has never been a better time to consider a career in construction."
Got a story? Email news@theconstructionindex.co.uk