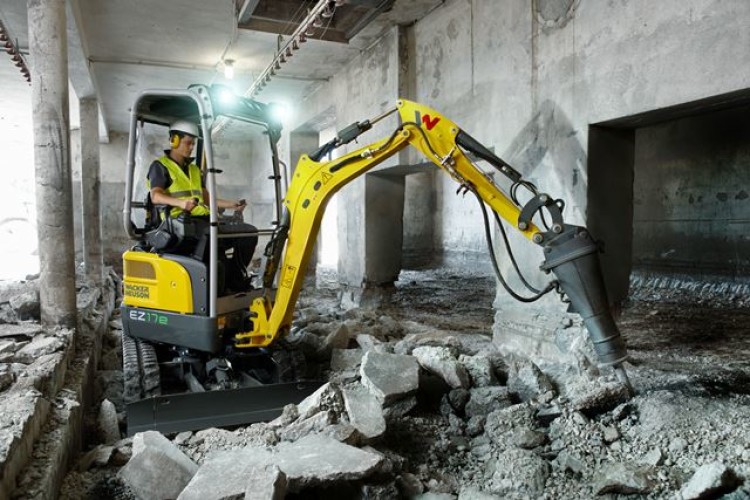 Wacker Neuson will be presenting its first fully electric, battery-powered mini excavator at this year's Intermat trade fair in Paris from 24th to 28th April 24 2018.
The manufacturer says that its EZ17e has the same performance and handling as the conventional diesel-powered model.
Wacker Neuson already has battery-powered construction equipment in its product range, including rammers, wheeled loaders, a vibratory plate and a tracked loader.
And its dual-power 803 mini excavator, which can be plugged into an HPU8 electro-hydraulic unit, won an innovation award at Intermat 2015.
But the EZ17e is its first battery-powered excavator.
News of Wacker Neuson's innovation comes in the same week that JCB unveiled its 19C-1 E-Tec battery-powered excavator. (See our previous report here.)

Both machines are powered by lithium ion battery for quiet, emissions-free operation.
Wacker Neuson's EZ17e can also be operated while connected to the mains, and can even be charged while in operation for round-the-clock operation.
The race is now on to see who will be first to market, and it looks like JCB might just have the edge. JCB says that its machine will go on sale at the end of 2018; Wacker Neuson says its machine "will be available from 2019".
Martin Lehner, CEO of Wacker Neuson SE, said: "Wacker Neuson has been manufacturing innovative, practical and cost-efficient light and compact equipment for 170 years. We've channelled our many years of experience and expertise in zero emissions products into our first mini excavator with battery and electric drive technology. Our development work always focuses on usability and customer value, which is why we make no compromises when it comes to performance, with power ratings matching those of our diesel-powered model."
Chief sales officer Alexander Greschner added: "Electric drives are becoming increasingly important. For rental companies in particular, these solutions are an interesting supplement to existing fleets as many of their customers rent products for specific projects such as renovation work inside buildings or tunnel construction. Electric drives are also low maintenance. This is a huge benefit as it reduces maintenance time and costs and maximizes machine availability."
Got a story? Email news@theconstructionindex.co.uk