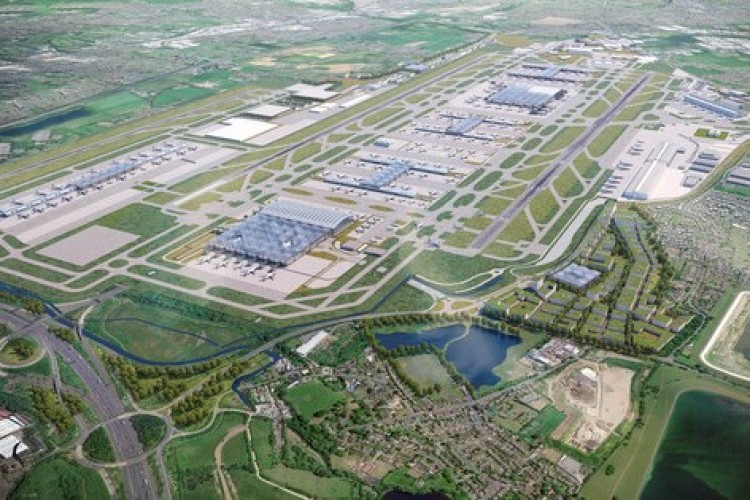 The House of Commons transport select committee has been scrutinising the Department for Transport's Airports National Policy Statement (NPS), which was published for consultation in February 2017. A new draft NPS was published in October 2017 following the intervening June election, proposing a new northwest runway at Heathrow.
Only when the NPS has been approved by both Houses of Parliament can Heathrow proceed with a planning application, in the form of a development consent order (DCO).
Heathrow Airport Limited intends to submit an application for development consent by March 2020 but the transport select committee's report, published today1, suggests there is still much work to be done by both Heathrow Airport and the DfT before Parliament will give its support.
The committee says that more safeguards on noise, air quality and project cost are needed before they can support the government's preferred scheme of a new northwest runway at Heathrow Airport.
Substantial sections of the draft NPS need to be revised to ensure that the interests of passengers are protected, and the adverse environmental, social and health impacts on affected communities are addressed. These include:
air quality
surface access
regional connectivity
scheme costs and airport charges
noise
community impacts and compensation
resource and waste management.
The report says: "Before votes in Parliament to approve a final NPS, we would like to see evidence to demonstrate that the Northwest Runway scheme is both affordable and deliverable and that steps are being taken to address the valid concerns we heard in evidence about the high cost of the scheme and the significant risk that costs will rise."
The chair of the transport committee, Lilian Greenwood MP, said: "The committee's recommendations improve the NPS and reduce the chance of a successful legal challenge. The Northwest Runway scheme, as set out in the draft NPS, is the highest cost expansion option and one of the largest privately financed infrastructure projects anywhere in the world.
"At present, the draft NPS does not guarantee that passengers will be protected from the cost risks associated with the scheme. The Secretary of State must set out how airport charges will be held down.

"During our inquiry, we heard how communities might be affected. Thousands of people across London could be exposed to worse levels of noise, air quality and traffic congestion - there must be sufficient measures to protect or compensate them.
"The government and Heathrow have made efforts to mitigate these significant impacts, but safeguards on air quality, surface access, connectivity, costs and charges and noise should be strengthened. As a matter of urgency, we also want to see how the Government plans to deliver the necessary airspace change.
"This must all be done before a final NPS is tabled for approval by both Houses of Parliament."
Backers of a rival scheme to expand the airport by extending an existing runway said that the MPs had effectively damned the third runway plans with faint praise. They said transport secretary Chris Grayling should admit a mistake has been made and replace the third runway scheme with their cheaper, simpler extended runway proposal.
Jock Lowe, director of Heathrow Hub, said: "By putting so many conditions on the third runway and exposing its many flaws, the transport select committee has damned it with faint praise.
"Our extended runway is cheaper, simpler and quieter. And unlike Heathrow Airport's scheme it is a fully worked out design, which does not destroy three villages and does not cause months, if not years, of disruption on the M25.
"Rather than waste any more time, secretary of state Chris Grayling should tell Heathrow Airport to drop its expensive and complicated plan and adopt ours instead. The National Policy Statement can easily be amended to include the option of the Extended Runway before being voted on by Parliament."
If Heathrow Airport Ltd does manage to get its DCO application in by March 2020, a final planning decision on a third runway at Heathrow could be delivered by September 2021, with the new runway operational in 2026.
Airports National Policy Statement, https://publications.parliament.uk/pa/cm201719/cmselect/cmtrans/548/54802.htm
Got a story? Email news@theconstructionindex.co.uk