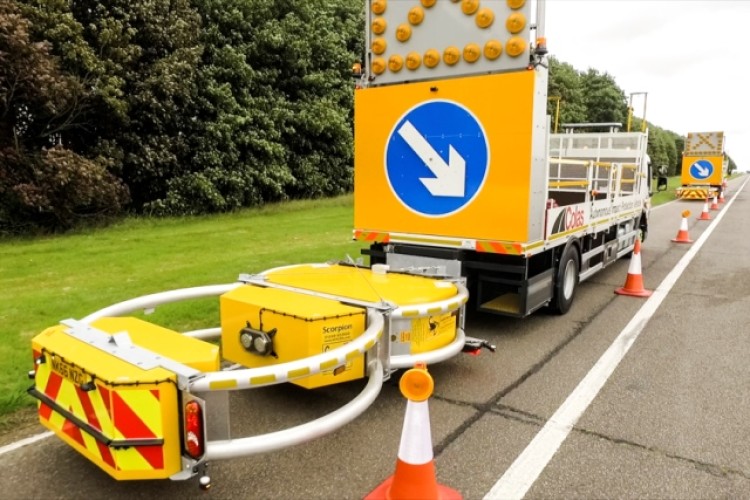 Colas has added autonomous technology to an impact protection vehicle (IPV) to remove the requirement of a driver in a vehicle that has been designed to be used as a mobile crash barrier protecting road workers. 
The system was developed in partnership with US companies Royal Truck & Equipment (RT&E) and Micro Systems Inc (MSI).  First use of the system has been in Colorado, USA but Colas is now looking to bring it to Europe and has the support of Highways England.
The autonomous IPV is fitted with an electro-mechanical applique kit and fully integrated sensor suite. The unmanned IPV follows a driver-operated leader vehicle.  Navigation data that includes vehicle speed and heading is transmitted from the leader vehicle to the follower vehicle. The follower vehicle follows the exact path and speed of the leader vehicle at each point along the route.  Initially deployed for use in the US military, the technology has been tailored by RT&E and MSI for use in the highways industry.
Colas CEO Lee Rushbrooke said:  "We are dedicated to advancing health and safety issues and will continue to invest in cutting-edge research and development projects to benefit our employees, clients and the wider industry.  We are extremely excited about this new technology and are looking forward to giving this a global reach to save lives of road workers, across the world."

RT&E president Robb Roy said: "Colas' innovative approach to health and safety is precisely why we are delighted to be working with them on this cutting-edge project in Europe.  There is no doubt that this technology has the potential to change the way the industry operates forever."
Mike Wilson, executive director for safety, engineering and standards at Highways England, said: "Our number one imperative is safety and we believe no one should be harmed when travelling or working on our road network. We welcome this innovative work by Colas which, through the use of connected and autonomous vehicle technology, has the potential to help the sector address the risks road workers face on a daily basis."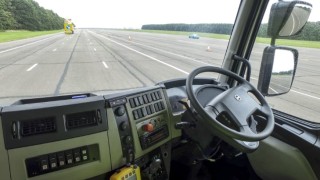 Got a story? Email news@theconstructionindex.co.uk