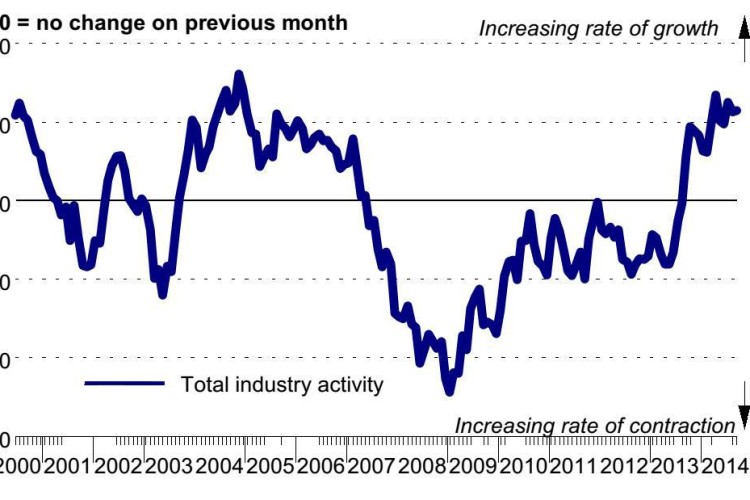 New business and employment both rose at sharper rates than in August and sentiment regarding the future prospects for activity remained strongly positive.
The Ulster Bank Construction Purchasing Managers' Index (PMI) – a seasonally adjusted index designed to track changes in total construction activity – posted 61.5 in September, broadly unchanged from the reading of 61.4 in August and thereby signalling a further strong rise in activity at Irish construction firms. Figures over 50 signify growth. Activity has now increased in each of the past 13 months, with panellists linking growth to the securing of new contracts.
Simon Barry, chief economist Republic of Ireland at Ulster Bank, said: "The recovery in Irish construction continues to gain strength, according to the results of the latest Ulster Bank Construction PMI survey. The overall PMI index for the sector was broadly unchanged at 61.5 in September, as activity posted another month of rapid expansion. Total activity has now recorded increases in each of the past thirteen months. Of particular note in the latest results is the fastest rise in housing activity in the survey's fourteen-year history – an encouraging sign that sustained, and badly-needed, increases in residential activity are now taking hold. The latest results also point to further sizeable advances in commercial activity, albeit that the pace of increase eased a touch for the second month running.
The rise in total activity was partly driven by strong growth in activity on housing projects. Residential activity increased at the fastest pace since data collection began in June 2000. Commercial activity also rose at a sharp pace in September, albeit the weakest in three months. On the other hand, civil engineering activity continued to decrease, and at a faster pace.
"Further very solid gains in overall activity seem likely in the months ahead judging by another very strong reading in the new orders index, with almost half of respondents reporting that new business levels rose last month," said Barry. "And with activity and new orders both maintaining favourable trajectories, survey participants are responding by adding further to their staffing levels. The employment index recorded a thirteenth consecutive month of expansion last month, with the rate of job creation picking up to its fastest since April. Sentiment among firms about the sector's prospects over the coming twelve months remains very upbeat with confidence remaining at near-record levels in September."
Strength in the housing sector was mentioned by some of those panellists that recorded a rise in new orders during the month. New business increased for the fifteenth month running and at a faster pace than in August.

With new work continuing to rise, construction firms increased their staffing levels accordingly. The rate of job creation in September was much faster than seen in the previous month and the strongest since April. Firms also upped their usage of subcontractors in September, the seventh successive month in which that has been the case. That said, the pace of increase slowed.
Meanwhile, the availability of subcontractors declined to the greatest extent for 14 years. Shortages in the supply of sub-contractors enabled them to raise their rates at the strongest pace since September 2004.
Greater output requirements led construction firms to increase their purchasing activity, and the rate of expansion was faster than recorded in August. This rise in demand for inputs imparted capacity pressure on suppliers, resulting in a further lengthening of lead times.
Input prices rose at a marked pace in September, with some panellists reporting that suppliers had increased their charges during the month.
Around two-thirds of all respondents forecast activity to be higher in 12 months' time than current levels, with optimism remaining at a near-record level in September. Ongoing growth of new business was predicted to lead activity to increase.
Got a story? Email news@theconstructionindex.co.uk