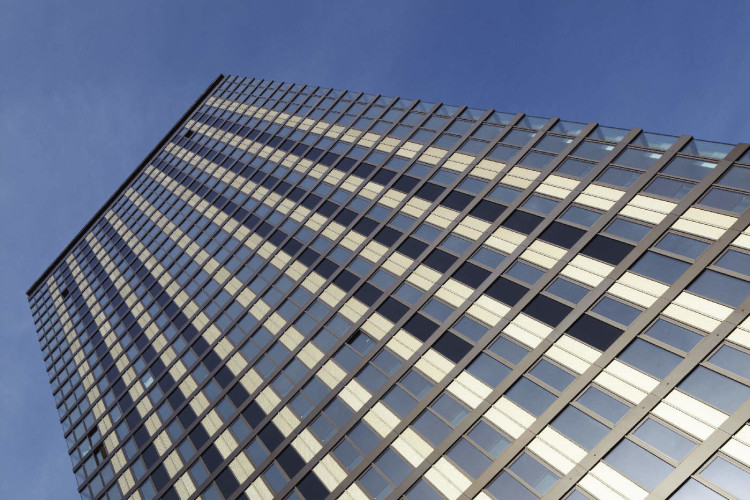 Built by Shepherd Construction, the 101m tower is part of the City Lofts St Paul's Apartments scheme – an ambitious £40m development and the focal point of a major regeneration project.   
Designed to be light and slender, the tower is iconic in stature and highly glazed, using nearly 700 Wicona unitised panels.  The units were pre-glazed and installed in just six months, at the rate of a floor per week. This innovative approach to façade construction eliminated the need for scaffolding, improved site safety and cost efficiency, and allowed faster completion of the building envelope for earlier fitting out.
Commenting on the project, Teresa Wesley, Associate Director at Conran & Partners, said, "We worked closely with the Wicona team during the design phase. Our aim was to create a highly reflective façade for the tower, with contrasting clear and opaque areas of glass.  The unitised approach allowed us to achieve the visual impact we had envisaged, and offers many site-related advantages.  It provides much greater quality control, safety improvement benefits, and less material wastage.  We would definitely specify this solution again."
Jon Mangham, Project Manager at Shepherd Construction, said, "The Wicona unitised solution removed the need for scaffolding or mast climbers on this project which was a really important safety benefit for the construction of such a high structure.  The loadings on the scaffolding would have made it dangerous to work at such a height."
"By completing the units off site in a manufacturing environment, we benefited from improved quality control and greater cost efficiency.  This more systematic approach to façade construction reduced the risk of remedial works and gave us more programme certainty.  It also allowed us to start fitting out at an earlier stage, as well as meet the most stringent performance and wind loading specifications."
"This is a vastly superior alternative to conventional methods of façade construction, combining safety, quality control, efficiency and speed.  I would definitely recommend it for similar projects."
A Highly Glazed Façade
The highly glazed Wicona unitised façade comprises clear glass to the vision areas and enamel-coated black opaque glass as vertical strips to conceal insulated walls.  Champagne-coloured vertical spandrel panels with concave pressings conceal structural columns and party walls, and aluminium-faced infill panels are used as horizontal bands between floors.
The curtain walling is capped to form a visible grid for a 'picture frame' appearance, and the aluminium frames are finished in light brown.  Bottom hung full-height vents inserted into the unitised panels naturally ventilate the bedrooms, with a tilt/slide door for the living areas.
The tower now forms a commanding presence on the skyline of Sheffield.  It features a variety of complementary external treatments – specially-designed terracotta rainscreen to the building ends and bronze cladding at roof-level, creating an elegant envelope for this landmark building. 
Its construction also used the latest off-site fabrication techniques, including pods for the kitchens and bathrooms, prefabricated cylinder cupboards as well as the unitised façade.
The tower provides 230 one and two bedroom apartments and penthouses, with a contemporary Conran design for city centre living.  The two lower floors of the building accommodate retail and leisure facilities.
The Wicona approach to façade design gives specifiers, building contractors and developers the benefit of a seamless and fully co-ordinated service – from initial design concepts and specification, to fabrication, installation, testing and handover – with all the advantages of off-site construction for the building envelope.
Got a story? Email news@theconstructionindex.co.uk