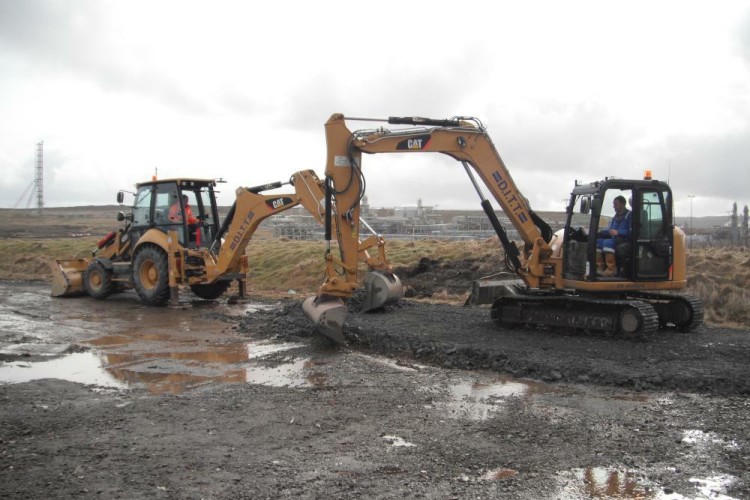 DITT had a detailed specification outlining the requirements of the machines and Finning was able to provide a tailored Cat 308E2 mini excavator and a Cat 432F backhoe loader that feature air intake shut-down valves. The modifications are critical to the operation of the machine, and more importantly, the provision of a safe system that minimises the risk to the terminal, the operator and surrounding personnel.
Gilbert Irvine, managing director of DITT Construction, said: "We presented Finning with our requirements for the machinery that included the fitting of an air intake shut down valve. It is possible for flammable gas to enter the engine, so with these alterations to the Cat 308E2 and Cat 432F, we can prevent a catastrophic incident occurring."
The role of the air intake shut down valve is key to how DITT Construction's new machines operate. If a flammable gas or vapour is drawn in to the intake of a diesel engine, it can act as an ungoverned fuel supply and, the only way to stop the engine is through the operation of an air intake shut down valve. Failure to stop the engine can result in uncontrolled engine overspeed, followed by mechanical failure and the potential ignition of the surrounding flammable atmosphere.

John Middleton, Finning territory account manager, said: "With any equipment choice you first need to understand the nature of the application it will be working in. The severity of working in an environment where oil exists presents a lot of difficult challenges that need to be met. The Cat 308E2 and Cat 432F each offer brilliant economic performance and high productivity levels, however, the most important aspect of this deal was identifying the correct adjustments that needed to be made to the machinery.
"We have provided a solution that will ensure both operator safety and to those working on site, whilst at the same time helping to achieve maximum productivity and efficiency. Additionally, it is very rewarding to see a customer return their business to Finning, and demonstrates the bespoke equipment solutions that Finning can offer."
Got a story? Email news@theconstructionindex.co.uk