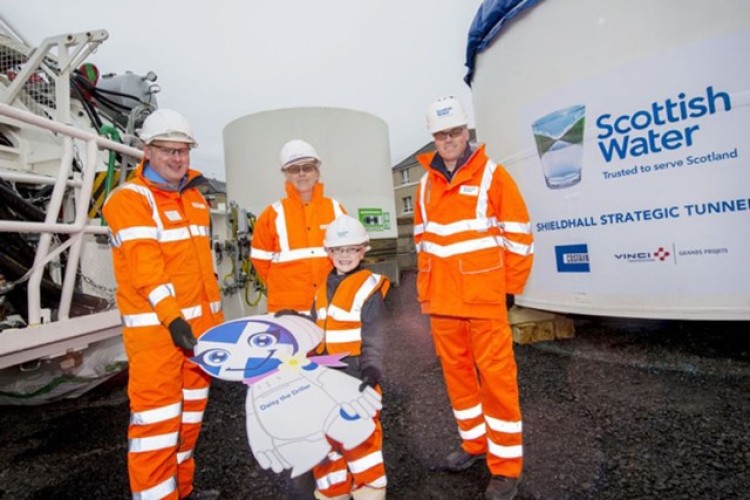 The £100m Shieldhall Tunnel project is being built by Costain-Vinci Construction Grands Projets Joint Venture (CVJV) for Scottish Water.
The tunnel will follow a 3.1-mile route under Glasgow between Craigton and Queen's Park and is expected to take more than a year to build.
The 360-tonne front sections of the German-made Herrenknecht TBM were shipped to Rosyth and taken by road with a police escort along the M8 in central Glasgow to the project site at Craigton in the southwest of the city.
The remaining parts are being delivered and assembled in the next few weeks before the start of construction of the tunnel in the summer. The Shieldhall Tunnel is expected to be completed by the end of 2017.
When assembled, the TBM will weigh 1000 tonnes and be 180 metres long. It will be launched into a 200-metre long cut-and-cover trench, six metres wide and 10 metres deep. Construction of the trench, which began in October 2015 and is due to be complete by the end of May 2016, has required the excavation of more than 25,000 tonnes of material and is taking place in a restricted working area alongside local residents.

Sub agent Ian Bowley said: "On paper this piece of work was always going to be a challenge and on occasions these challenges have been greater than expected. However the open cut team are managing to overcome the obstacles to achieve the excavation.
"Balancing the movement of considerable levels and size of plant, mobilising our excellent team and dealing with the worst of the weather in such a tight area has proved to be difficult, but we are dealing with these challenges and will deliver something to be extremely proud of."
Local lad Lewis Bennett won a competition to name the TBM with his suggestion of Daisy the Driller. He visited the project site and met Scottish Water chief executive Douglas Millican (pictured above).
Pictured below is the TBM being tested at Herrenknecht's headquarters in southwest Germany in February.
Got a story? Email news@theconstructionindex.co.uk