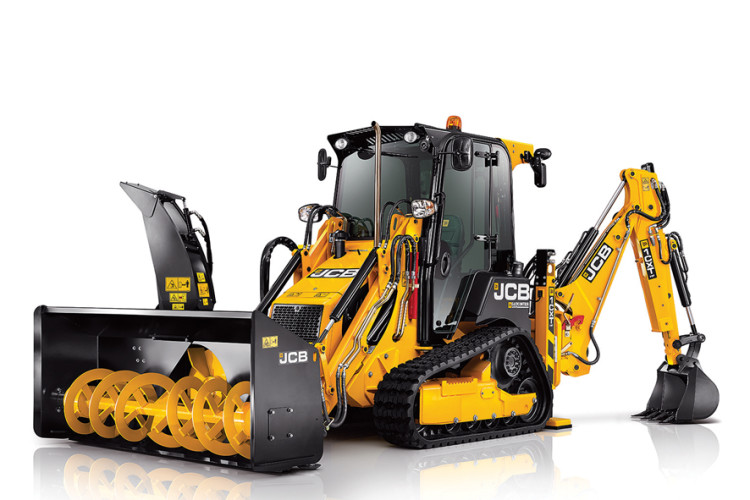 JCB has one of the slickest PR operations in the construction plant industry. A constant and copious flow of news emanates from the world HQ in Rocester, making sure the world is up to speed on the latest sales successes, on-site triumphs and corporate achievements.
There seems to be nothing the company doesn't want to publicise. And maybe that's the trick: we're so deafened by JCB's good news that should the occasional skeleton rattle out of a cupboard, chances are most people wouldn't notice.
Contrast JCB with other major corporations, for whom public relations is all about staying in control. You can't help wondering what they're trying to hide.
That's just not JCB's style. Last month it hosted a visit by two coachloads of journalists from all over Western Europe and gave them a tour around its "topsecret" test site, a former Tarmac limestone quarry, with just a polite request not to take any photos. To be honest, it just looked like a lot of machines digging holes – but those with espionage on their minds might have witnessed something worth reporting. Last month's event started with the obligatory factory tour – a sort of hair-shirt ritual designed to remind you that you're not there just to enjoy yourself.
This particular factory was JCB's compact equipment plant in Cheadle, Staffordshire, and because it was early evening the building was empty and the shop floor cathedral-quiet – for a while, at least.
After a tour of the production line (including a peep into the super-clean, contaminant-free hydraulic testing and calibrating department and a special "light/dark" room that uses UV light to detect the merest hint of an hydraulic leak) the assembled press corp was seated in a curtained-off area for a presentation by JCB Compact Products MD and scion of the Bamford dynasty, Jo Bamford.
Mr Bamford explained that the midiexcavator market was a major growth area. He then raised the curtain on a new machine to the accompaniment of disco lights and bombastic music played at head-splitting volume.
It is ironic that a plant manufacturer, having done so much to reduce noise emissions from its products, considers it desirable to introduce the latest novelty with a barrage of noise deliberately generated at levels far in excess of what would be permissible on site.
The following day, in JCB's purpose-built theatre, more products were announced, culminating in another noisy unveiling, this time with dry-ice. The product concerned was JCB's new CommandPlus cab which provides a very commodious working environment with acres of space.

In fact JCB displayed so many new products, enhanced products, tweaked products and not-so new products that it required no fewer than 20 separate press releases to explain them all.
But amid all the new product hyperbole came a sober assessment of global market conditions by JCB chief executive Graeme McDonald who noted the depressing effect on world sales caused by the past year's political upheavals.
Demand in the BRIC countries (Brazil, Russia, India and China) has faltered in the face of growing tensions over Ukraine, a slowing in the Chinese economy and, no doubt, World Cup humiliation in Brazil. In the six months to June 2014, the Russian market declined by 22% and India was down 20%, said McDonald.
This is unwelcome news for JCB which, as McDonald noted, exports 75% of its production. Global demand for backhoe loaders - JCB's core product - has fallen by 19% due directly to reduced demand in Russia and India.
McDonald added that the growth he had expected in China simply had not materialized and that JCB is being "extremely cautious" in this and other developing markets.
Growth in the UK, too, appears to be slowing, though McDonald believes that this is largely due to political uncertainty in the run-up to next year's general election. Delivered on the eve of Scotland's independence referendum, McDonald's comment carried particular weight. But if anybody expected the success of the "No" campaign in Scotland to lay this particular ghost, they were mistaken. The fallout from the referendum seems only to have stirred up a hornet's nest of political unrest in the UK.
That said, the UK remains JCB's strongest market: it grew 44% in the first six months of this year. Only Portugal grew faster, at 48% - though from a very low base, conceded McDonald. A little political turmoil isn't enough to deter JCB, though, and it continues to invest in R&D and production. Last year it announced £240m-worth of investment in UK operations and next month it will open its new £100m factory in Jaipur, its third Indian plant.
This article first appeared in the October 2014 issue of The Construction Index magazine.
To read the full magazine online, click here.

To receive you own hard copy each month in traditional paper format, you can subscribe at
http://www.theconstructionindex.co.uk/magazine#
Got a story? Email news@theconstructionindex.co.uk