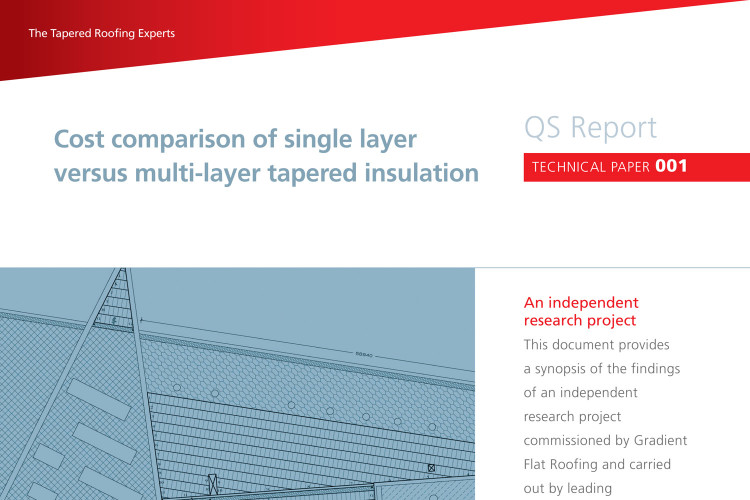 Completed by leading construction consultancy Davis Langdon and commissioned by Gradient Flat Roofing, the research also noted the ability of single-layer insulation to create a bespoke solution for each individual roof under carefully controlled factory conditions. 
The Davis Langdon research revealed that on average, using a single-layer tapered insulation solution could reduce the insulation cost by 16% when compared to a multi-layer tapered equivalent, with a maximum material saving of 22% being possible. Time savings which equate to between £600 - £2,500 per week are also achievable, depending on the construction programme and the roof installation's position in the schedule. 
Having pioneered the use of single-layer tapered insulation systems for over 25 years, Gradient Flat Roofing commissioned the independent research to highlight the many advantages it offers over multi-layer insulation.  Multi-layer systems use a series of insulation components laid over flat 'packer' boards which must all be bonded to each other on-site, and this can result in a total bonded surface area that is up to three times greater than the actual roof area. In contrast, the carefully manufactured components in a single-layer system are bonded together in the factory to form complete bespoke insulation panels which are simply installed and bonded onto the roof. 
In order to reflect the practicalities of 'real world' roofing, the research was based on three actual projects which involved different types of roof structures. The insulation system for each was designed to achieve the required U-values with the minimum thickness of insulation. 
"The benefits of single layer insulation over multi-layer are well known throughout the roofing industry, but it's especially significant when a leading independent specialist is able to both confirm and quantify those benefits" says Gradient's Sales Manager, Richard Milward. 
"In addition to these time and cost savings, single-layer insulation can also deliver many other benefits to a project. Any required falls can be created to ensure reliable and effective drainage and this in turn minimises the problems of ponding and roof loading and maximises the working life of the roof. Single-layer insulation is equally well suited to both new-build and refurbishment projects and the variety of materials which can be incorporated into a system mean that it is perfectly compatible with a very wide range of different projects and roof types."
Got a story? Email news@theconstructionindex.co.uk