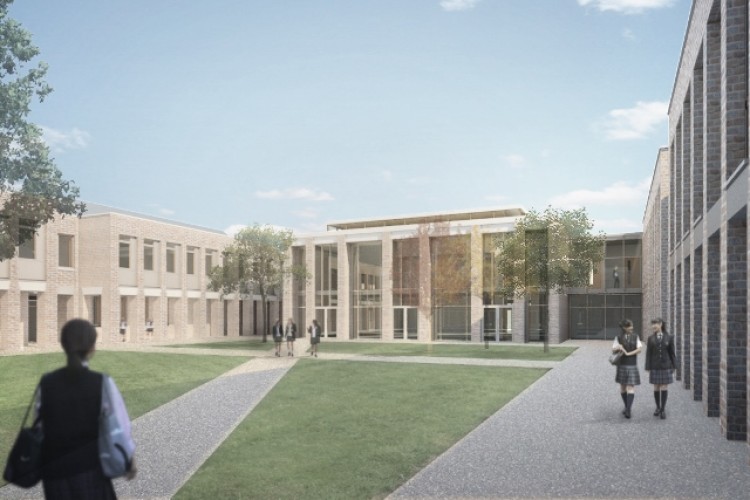 Speller Metcalfe is currently working on the £18.2m first phase of the project, which includes the construction of a sixth form centre and the relocation of King's High for Girls from the town centre to join the foundation's other schools at the existing Myton Road campus.
Work on the first phase has been held up by archaeological finds but the client has been pleased with how Speller Metcalfe has managed the delays.
The masterplan for the new campus has been developed by Nicholas Hare Architects. 
The second phase of the project is a further £11.1m contract to build a music school and an extension to the sports centre.  The two-storey sports and technology centre has been designed to wrap around the existing Bridge Sports Centre, and alongside games pitches. The new building will also provide studio and workshop space for design & technology, food technology and art.

The music building will have a performance hall with space for a 60-piece orchestra, seating for an audience of 140 and a wing of specialist teaching spaces.
Speller Metcalfe regional director Mark Hudgeon said: "We have been on site at Warwick Independent Schools Foundation for just over 12 months now and are delighted to have secured the second phase of works which will see Speller Metcalfe take the project through to completion in 2020.
"We have a strong track record of delivering the very best in high quality, flexible school facilities and will continue to use our extensive experience and expertise in the education sector to create an outstanding, world-class learning environment for students and teachers to enjoy for many years to come."
Warwick Independent Schools Foundation secretary Simon Jones added: "The decision to award Speller Metcalfe the contract for Project One Campus Phase 2 is a testament to how pleased we have been with their delivery to date of Phase 1.  They have proven themselves professional, accommodating and flexible in handling the inevitable challenges during the roll out of such a major project – not least the discovery of archaeological remains resulting in the project schedule having to be adjusted to mitigate the delay."
Got a story? Email news@theconstructionindex.co.uk