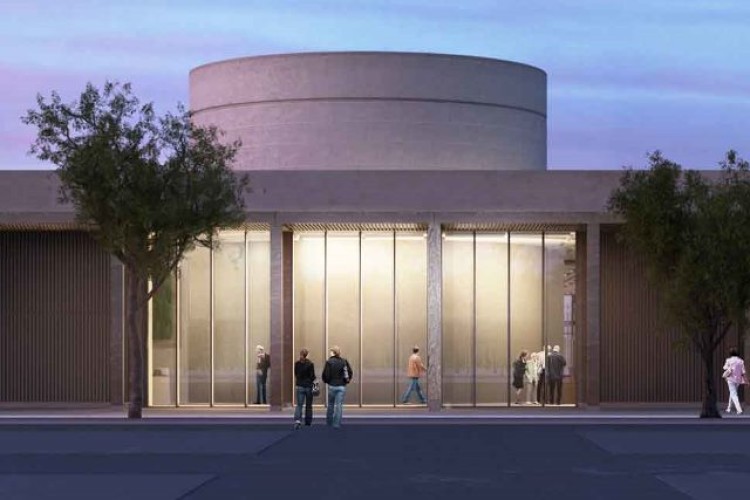 Designed by Glenn Howells Architects, the new centre will provide expanded visitor facilities at the Royal British Legion's National Memorial Arboretum. The arboretum has more than 300 memorials and around 30,000 maturing trees set in 150 acres of grounds.
The new Remembrance Centre project is valued at £15.7m and will take a year to deliver.  As well as a new Remembrance and Learning Centre there will be a new outdoor area, called Heroes' Square.  With the completion of the new facilities, annual visitor numbers are expected to rise from 300,000 a year to around 500,000.
The new building will have a limestone façade, echoing the Portland Stone of the nearby Armed Forces Memorial, and it will also have a timber portico and slatted timber cloisters. Heroes' Square, a central courtyard space designed by landscape architect Fira, will be created within the cloisters.

National Memorial Arboretum director Sarah Montgomery said: "Stepnell impressed us with their sensitive and considered approach to the redevelopment of our visitor facilities. As a fully operating visitor destination for the entire duration of the build, this construction programme presents some rather unique challenges which Stepnell has addressed. As a result, visitors will share our delight at being able to witness the new Remembrance Centre take shape."
Stepnell joint managing director Mark Wakeford added: "We feel honoured to be helping deliver the new Remembrance Centre at the National Memorial Arboretum. This is a very exciting and poignant project for Stepnell, which has a long history of supporting our service men and women that dates back to the company's founding in 1867. The new centre is a truly inspiring development which will transform the experience of the arboretum's increasing numbers of visitors, providing expanded and enhanced, modern facilities built to the very highest standards and fitting for this immensely important national site of remembrance and commemoration."

Got a story? Email news@theconstructionindex.co.uk