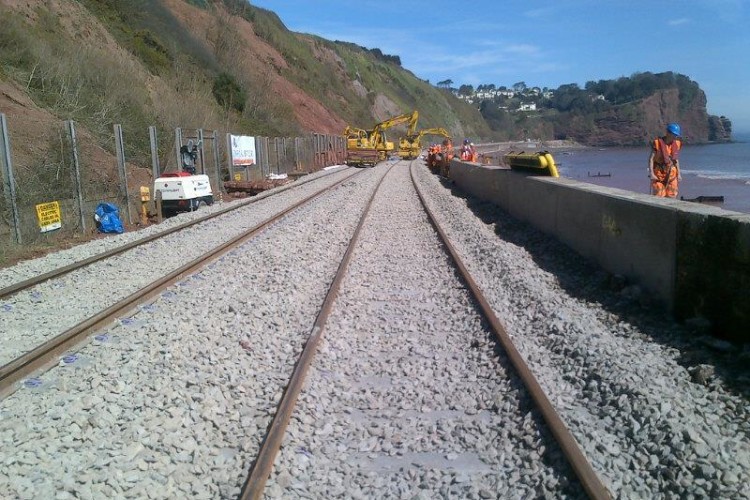 Mark Carne, chief executive, Network Rail, said: "Our army of engineers has done an amazing job of putting back together a railway that was ravaged by the elements. They have overcome every obstacle thrown at them, winning many battles along the way to restore this critical piece of the network, ahead of schedule, and in time for the Easter holidays.
"Our focus now moves to the medium and long-term looking at what can be done at Dawlish to make the current coastal route more resilient and, by the autumn, understand what the best viable relief route might be."
Network Rail fielded a 300-strong team - known locally as the 'orange army' - to restore the line.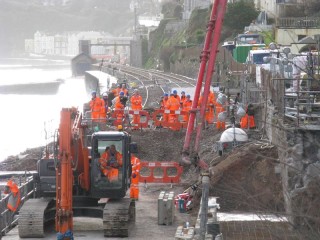 Tasks included building a temporary sea wall from 18 welded shipping containers as protection during the repair of a 100m breach at Riviera Terrace, Dawlish. The crews also had to rebuild and fortify the breach with more than 6,000t of concrete and 150t of steel, and to remove 25,000t of collapsed cliff using high pressure water canon, fire hoses, helicopter-borne water bombs, specialist roped access team and 'spider' excavators.
Andy Crowley from AMCOrail, one of Network Rail's key contractors, said: "It has been an incredible eight weeks. Everyone has pulled together and come up with so many innovative engineering solutions to solve some of the tremendous obstacles we've had to overcome. No-one will forget the great sense of family and belonging that has been built up over the last two months. The support from both the community and local businesses has been overwhelming."
Got a story? Email news@theconstructionindex.co.uk