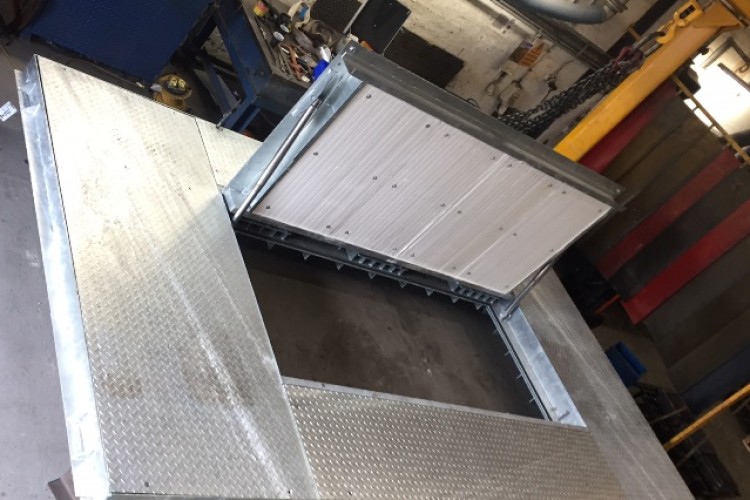 Fabweld Steel Products (FSP), based in Telford, Shropshire, has developed and supplied the rapid opening access covers.
The seven-year London Power Tunnels project sees the construction of a 32km electricity superhighway, made up of a dozen 15-metre wide shafts that are up to 60 metres deep.
The access covers on the service shafts are needed to allow the emergency extraction of casualties. They had to be designed to cope with a weight load of up to 11.5 tonnes and other requirements included single-person operation and two-hour fire rated protection on the steel.
FSP managing director Richard Hilton said: "We were already installing duct cover systems on the project when we were approached to provide the stretcher access covers at sites in Hackney, St Johns Wood, St Pancras, Willesden, Wimbledon and Kensal Green.
"At the time, there was no such product in our range and we worked to develop our hinged access cover system further to meet these specific requirements.

"There was no standard solution to creating a stretcher access cover that would allow the safe extraction of casualties, carry the required load and also be fireproof. The entire cover and all elements had to be totally demountable as well so that the structural opening could be increased for essential maintenance."
Explaining the design challenges, he added: "We used 3D modelling software and analysis throughout the project to develop the access cover, introducing numerous improvements to decrease the manufacturing time and reduce buckling issues at the galvanisers.
"There was a fine balance between the weight and the required strength within the stretcher access assembly, particularly due to the hinged design."
The stretcher access covers are being installed on the tunnels and FSP has now added the product to its general portfolio.
Got a story? Email news@theconstructionindex.co.uk