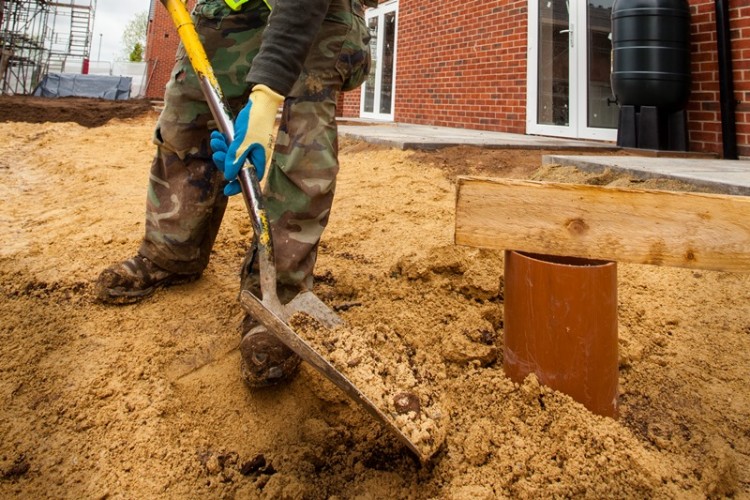 There were sharp rises in housing, commercial and civil engineering activity. Employment rose steeply and there was a survey-record decline in subcontractor availability.
Rates charged by subcontractors also rose more steeply than at any time since the survey began in April 1997.
At 64.0 in August, up from 62.4 in July, the seasonally adjusted Markit/CIPS UK Construction Purchasing Managers' Index (PMI) remained well above the neutral 50.0 threshold. It was the highest score (indicating fastest overall increase in output levels) since January 2014. The latest reading also pointed to the second-strongest rate of output expansion since the pre-recession peak seen in August 2007.
Residential construction posted the fastest rise in activity, despite the pace of expansion moderating slightly to a three-month low. Civil engineering activity increased at the strongest pace since March, while growth of commercial construction again held close to its fastest since the summer of 2007.
Strong gains in incoming new work were recorded during August, thereby extending the current period of continuous new business growth to 16 months. Survey respondents cited improving economic fundamentals and a corresponding rise in clients' willingness to commit to new construction projects. As a result, construction firms remain highly upbeat about the prospects for output growth over the year ahead, with more than half (59%) expecting a rise in business activity and only 7% forecasting a decline.
Construction firms hired staff at a strong rate in August, with the pace of job creation only slightly less marked than the survey-record high seen in July. Subcontractor usage picked up sharply and at the fastest rate since the survey began in April 1997. This in turn contributed to a survey-record drop in subcontractor availability and a much steeper increase in rates charged by subcontractors, Markit said.
Once again there were signs of greater strains on supplier capacity. Delivery times from vendors lengthened in August to the greatest degree since the survey began more than 17 years ago. Construction firms widely commented that low stocks and capacity pressures had resulted in worsening supplier performance.
Meanwhile, latest data also indicated a sharp and accelerated increase in average cost burdens across the construction sector. The rate of input price inflation was the fastest since July 2011, with some firms noting that strong demand for inputs had allowed suppliers to re-establish margins in recent months.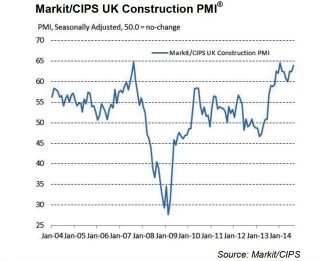 Markit senior economist Tim Moore, who compiles the survey, said: "UK construction firms saw one of the sharpest rises in output for seven years in August, with increasing workloads driven by an array of factors including surging homebuilding activity, greater infrastructure spending and renewed confidence within the commercial development sector.
"A broad-based upturn in construction demand has created a boom in job creation this summer, as construction companies look to replace capacity lost in the aftermath of the recession.
"However, acute skill shortages meant that sub-contractor charges rose at the fastest pace since the survey began in 1997. Meanwhile, sub-contractor availability fell at a survey-record pace, which could act to further ignite pay pressures in the short term.
"Supply chain pressures intensified during August, as falling stocks and strong demand for inputs contributed to the steepest lengthening of vendor delivery times since the survey began 17 years ago.
"While some survey respondents noted optimism that additional supplier capacity will come online over the near term, construction companies were generally less sanguine in relation to their staff hiring difficulties, reflecting concerns about protracted growth pains in this area."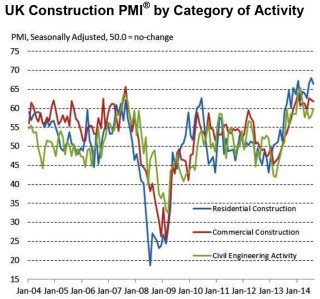 David Noble, chief executive of the Chartered Institute of Purchasing & Supply, said: "The resurgence in construction has entrenched itself after a summer of blistering growth but builders should prepare for growing pains this autumn as the sector labours to recover lost capacity. Buoyed particularly by investment into civil works, construction output grew at the fastest pace for seven months in August, whilst activity continued to expand in housing and commercial construction. Confidence for the next 12 months also remained high as businesses continue to invest for the future.
"Nevertheless, an encouraging 15 months of sustained employment growth, the longest since 2006-2008, is revealing a major skills shortage in the sector. August saw the quality of sub-contracted work deteriorate at the fastest rate since the survey began in 1997, combined with a record reduction in the availability of sub-contractors and a record rise in the rates charged. The sector is struggling to find enough skilled tradesmen to keep pace with new work and the labour market will continue to put pressure on costs until the next wave of apprentices begin to enter the jobs market.
"Indeed, across the supply chain, delivery times have seen the sharpest rise since the survey began, with input prices growing at the fastest rate since July 2011. With the UK's appetite for building materials growing throughout the summer, suppliers are struggling to ramp up production to pre-crisis levels."
Got a story? Email news@theconstructionindex.co.uk