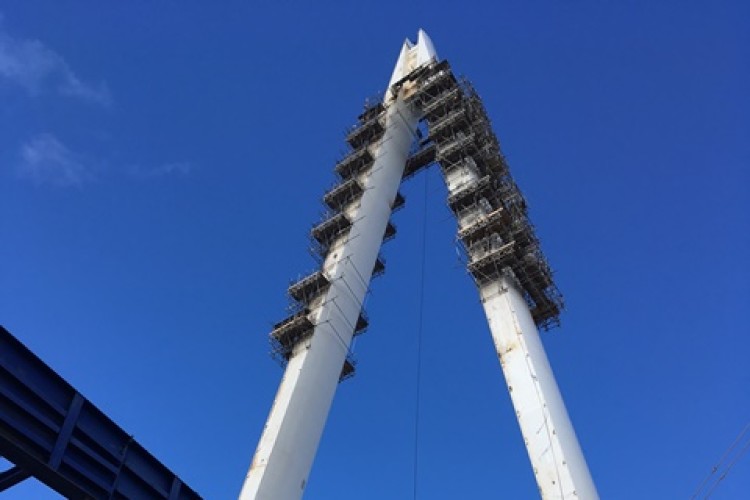 The hydraulic jacking operation to push the 300-metre bridge deck from the south side of the river to the north side began on Sunday afternoon (26th March 2017). With the deck weighing close to 5,000 tonnes, it is expected to take at least two days to complete the operation, depending on weather conditions.
Once in place, the deck will span from where it has been assembled on the south side of the river in Pallion to the north side in Castletown, and will require a further 40-metre section to be constructed over the summer months on the north side to complete the full length of the bridge.
Main contractor for the £120m project is a joint venture of Farrans Construction and Victor Buyck Steel Construction on behalf of Sunderland City Council. Sarens is subcontractor for heavy lifting and jacking operations.
Stephen McCaffrey, project director for FVB Joint Venture, said the project was progressing well and was on track to open next spring. "At 300 metres long and weighing 4,750 tonnes, the deck is a substantial structure so moving it out across the river will be a very slow and steady operation. It has been in the planning for a long time, and has been calculated to the nearest millimetre, so we will be monitoring it throughout to ensure it progresses in the way we expect."


A first phase deck launch was conducted in October 2016. The second stage follows erection of the main pylon that supports to two spans from the centre of the bridge.
The 100-metre pylon was raised into position in February during a two-day lifting operation. [See previous report and video here.] The pylon is now secured to the foundations within the riverbed and is free-standing. Scaffolding has been attached to the top of the pylon to enable the cable stays to be fitted during the summer, which will be attached to the deck and gradually stressed to take the weight of the bridge later this year. After that, the blue steel temporary supports holding the deck will be removed.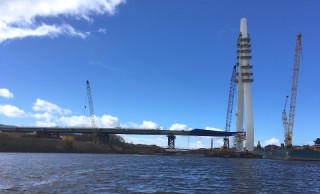 Got a story? Email news@theconstructionindex.co.uk